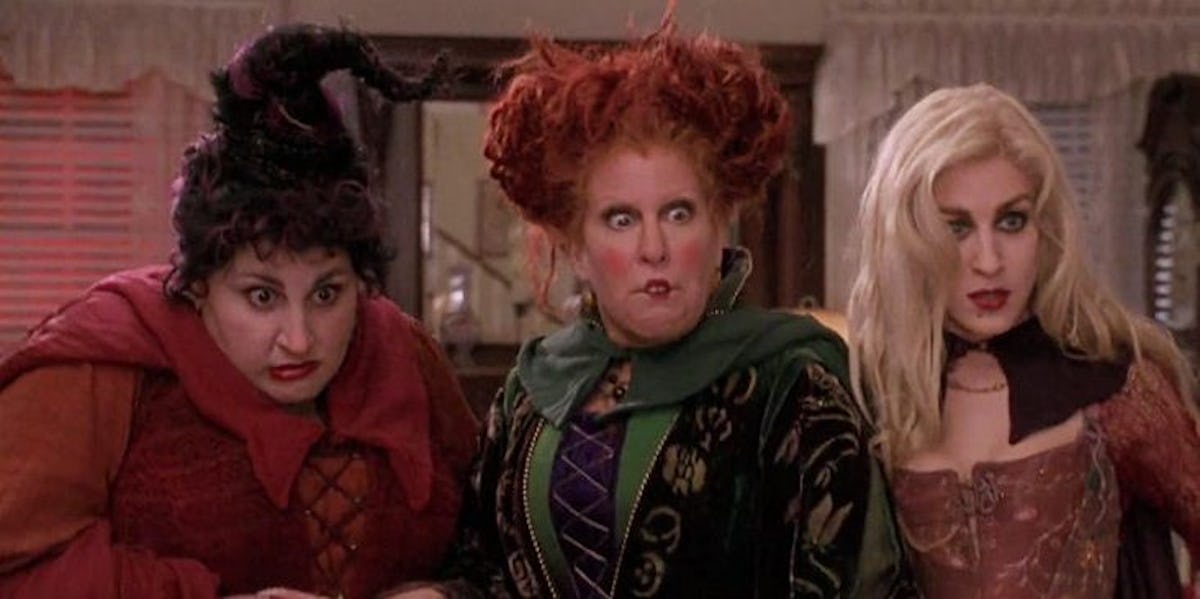 A 'Hocus Pocus'-Inspired Beauty Line Exists & It'll Put A Spell On You This Fall
Disney
October is on the imminent horizon, and that means one thing to children of the '90s: Hocus Pocus season, y'all! Winifred, Mary, Sarah, Max, Dani, even Thackery Binx — the gang is all coming back to your screen for another glorious Halloween. And this year, you can scarf down candy corn and watch the best Halloween movie of all time with Sanderson-worthy skin. Hocus Pocus beauty products from Wonderland Magic are here, sistahs, and apparently, witches smell delicious AF.
Unfortunately, the brand wasn't able to bottle Thora Birch's sparkling eyes, Sarah Jessica Parker's vampy red lip, or Bette Middler's flaming orange 'do. Instead, they're offering every Hocus Pocus fanatic a chance to tap into the powerful witch within them with whipped body scrub, lotion, and "shower frosting," which the brand explains as "whipped soap that foams, lathers and looks like frosting." Lathering up with frosting? So many dreams just came true.
Each product comes in two scents: "Sanderson Sisters" and "It's Just A Bunch Of Hocus Pocus." "Sanderson Sisters" is described as "a mixture of spices and three scents: (strongest) cranberry, apple and pumpkin," which sounds like something straight out of the Book of Shadows, if you add in a pinch of child soul.
"It's Just a Bunch of Hocus Pocus" is scented like something even more delicious than frosting: doughnuts! And the scent's even got a meaty connection to the plot of the movie. "This smells like fresh from the oven apple cider donuts. Crisp, juicy apples blended with warm cake and hints of cinnamon and caramel," say the brand, "just like the apple cider Allison offered Max and Dani at her parents Halloween party, but in donut form."
Number one, my mind is blown. Number two, can you say yum?
Perhaps the best part of the entire collection is the price. The range is available at Wonderland Magic Bath Company's website, and you can score a 1-ounce size of any product for merely $3, which makes it a realistic, festive option to gift your own coven. If you love the aromas and just can't get enough, the 8-ounce sizes range from $12-$14.50, so totally doable without breaking the bank.
And if you're still running around Salem searching for more Hocus Pocus inspired products, Pearl Bath Bombs has launched a limited-edition "Hocus Pocus Pack" of three scented bombs. Each Halloween tub treat is handmade and boasts a cruelty-free formula that softens skin while turning your bathwater into a cauldron's potion.
The brand new Dark Magic Charcoal Bath Bomb contains coconut-activated charcoal that makes your water completely black, and the fun won't just go down the drain when you're done relaxing. Don't throw the baby out with the bath water, because a black cubic zircona ring will be floating around in the water after you use it.
The Boo! Bomb will envelop your skin with a scent of sweet black raspberry, and this is one ghost that won't leave you empty-handed. A sterling silver, rose gold, or gold-plated ring will be waiting for you when you're done soaking.
The Vampire Kiss bomb "fizzes and bubbles to release a horrifyingly delicious scent of Midnight Pomegranate while turning your bath into Vampires dream come true," which sounds so refreshing and also terrifying. It also comes with a sterling silver, rose gold, or gold-plated ring.
For each bomb, you can select a ring size between five and 10 on Pearl Bath Bomb's website. Shoppers can buy each bomb individually for $17, or the "Hocus Pocus Pack" of three for $47.