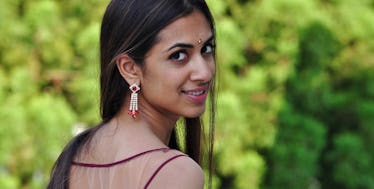 Hitting Rock Bottom Helped Me Reclaim My Dream Of Becoming A Doctor
Amma
Sometime during my junior year at MIT -- it's hard to pinpoint exactly when -- I started to feel tired, unhappy, and unable to keep up with my extracurricular commitments. I was convinced I wasn't "good enough" -- even though I couldn't have told you at the time what would've made me feel good enough.
Especially at a place where you're surrounded by brilliant classmates who go on to win Rhodes Scholarships or start companies with multi-million-dollar valuations, it's easy to develop impostor syndrome.
I was bubbly, passionate and successful by day. By night, I was confused, insular and filled with self-doubt. Compounding my depression were the significant expectations placed on me by family friends back home, who'd often ask, "What's your new plan to change the world?"
On the inside, I'd cringe and think to myself, "If only they knew I feel like a fraud."
My grades began to slip and, with that, so did my self-esteem. I was no longer confident my dream career was to be a physician -- a realization that terrified me. My parents had sacrificed so much for me to be at MIT, and they had always hoped I'd become a physician. I knew they'd be devastated if I deviated from that path.
When we'd talk, I'd tell them I was putting together personal statements for graduate programs. In reality, I would never go on to complete my application. By getting more involved in my acappella group and other extracurriculars I enjoyed, I hoped I could hide my insecurities and incipient depression -- from others and, perhaps, more importantly, from myself.
I wanted help.
Up until my junior year, however, I had been the one trying to help others experiencing mental health challenges -- prompted in part by a sobering personal experience.
One night my freshman year, a friend, Casey*, sent me an email saying she wanted to commit suicide. Her note is still seared in my memory. Having just gone through a painful breakup with her boyfriend at the time, she seemed to have given up on life. She said she would "be doing the minimum to survive," and she prayed "for one day in which I can devote every part of my soul to him…in a last attempt to repay him for all of the things he has done for me, so that I can say a proper goodbye."
The end of Casey's note was especially chilling: "If I cannot have my wish granted, I will no longer have reason to live. Please understand. Anyway, I'm sure you will be perfectly fine without me."
While I tried to get her the support she needed from mental health services, she was back in the same toxic relationship within a few months, and I found myself shut out. I had never felt more helpless as a friend, or more frustrated with the system, as I did when I was trying to help her.
Casey's crisis compelled me to get involved with shaping mental health policy at MIT. It also convinced me that revamping healthcare in America, writ large, will require empowering patients and their loved ones to manage illnesses together.
After two students committed suicide in 2012, serving on the MIT Chancellor's special taskforce on mental health, I realized the Institute had some of the right pieces in place, including a residential support system and dedicated mental health clinicians. However, it had been unable to build a culture where members of the MIT community, especially students, could help each other deal with failure and the loss of peers to suicide.
As co-president of MIT's chapter of Active Minds, I worked with students and faculty to create a peer-referral organization, Peer Ears. Students in each dorm receive training from Peer Ears, engage peers who are struggling with mental health disorders and recommend resources for them to use.
With a $40,000 grant from the chancellor, I was able to convince the Institute to implement the program, integrate existing mental health services at MIT and develop an online portal, MITogether, to present available services to students clearly.
After I started sharing the Peer Ears concept with community outlets, such as NPR Boston, The Boston Globe and USA Today, many peer-driven efforts took hold at MIT, including hackathons and movie nights. I had the good fortune to discuss these experiences in a TEDx talk I gave right before graduation. Not once did my own personal challenges come up.
I say all this to point out how delicate and stigmatized a subject mental health is. For all the work I did on it when I was an undergrad, I, too, succumbed to depression and avoided reality.
On graduation day, I was despondent. A number of the major goals I had set for myself when I came to MIT -- securing an internship at a top consulting firm, being admitted to a top medical school, getting a publication under my belt and running a marathon -- didn't materialize.
I was 40 pounds heavier than I had been when I started school, had no clue where my career was going, and I was struggling to find the motivation to persevere. So much for that vaunted MIT education.
Matters didn't improve when I returned to DC and moved back in with my parents. I was an analyst at a hospital consulting firm -- a position I had accepted only after multiple job interviews had gone nowhere -- using claims data from patients to develop care programs tailored to the populations our hospital clients served.
While the work was rewarding, I wasn't inspired by the people I was working with. I hesitated to ask questions for fear of being seen as "probing," and I was often made to feel like I was slacking if I didn't accommodate unreasonable deadlines.
The only redemption was that the analysis I did on overutilization of hospital systems by children reignited my passion for healthcare.
The data were stark; roughly 10 to 20 percent of them accounted for over 80 percent of the costs. Some had chronic diseases like asthma and diabetes; others had behavioral health conditions. Often, these children would be in the ER because they didn't have a general physician who could help the patients, their families and their school caregivers.
I realized that my hypothesis -- support networks are an important requirement for healthcare outside of the hospital system -- held true more widely. I started to develop innovations in educational programming and foster collaborations with schools to enable better care for children who suffered from severe chronic illnesses.
In hindsight, this was a first step towards reclaiming my dream of being in healthcare.
Even still, the analysis I was doing was far out-shadowed by my cultural mismatch with the firm. On January 1, 2014, increasingly frustrated with work, my personal life and the perpetual feeling of going nowhere, I sat down and wrote a list of all the things making me unhappy in my life.
I had never been successful at keeping resolutions, but as I sat in my favorite pajamas scrolling through other people's New Year's aspirations on Facebook, I knew I couldn't turn things around until I honestly took stock of all of my challenges. I boiled my list down to three core areas: my weight, my personal sense of satisfaction and my career.
I had finally identified my definition of success and gotten rid of self-imposed limits. I signed up for a marathon that day, decided to apply for a master's degree in public health programs and reached out to mentors to see if they knew of any professional opportunities.
A week later, I received a phone call from my former boss at Genentech, offering me a job at a San Francisco-based pharmaceutical firm he had just joined called Medivation. My role would be to design a screening test for a targeted cancer treatment. I'd be getting paid more than I was in my current job to do what I loved (combining my passion for cancer research and creating impactful products) with a mentor I had a good relationship with. By the end of the month, I had found a place in San Francisco, packed my bags and left my first employer.
The transition to Medivation was admittedly difficult. I had to get up-to-speed on a clinical trial that was almost near the end of its second phase, understand the biology behind breast cancer and become an expert on screening technologies that could be used.
Even so, the more I worked to understand the economic viability for our screening test, the more I wanted to learn about the commercial and clinical impact it could have on future patients. We had the potential to save lives with our drugs and technology. I needed that kind of gratification to validate why I wanted to be in healthcare.
When I got into Yale's School of Public Health in early March of last year, I started looking at potential dual degree options with the School of Management. To my surprise, I found that Yale was planning to launch a two-year MBA/MPH program that fall (typical joint MBA/MPH programs are three years long).
I emailed the Director of Admissions at the School of Public Health to inquire about the program. She replied quickly and advised me to contact Howie Forman, the program director, to learn more and get a sense of how competitive I'd be.
Dr. Forman told me I'd have to apply and be admitted to the School of Management (SOM) to join the inaugural class of the two-year MBA/MPH program. He also said I'd be going against the grain: traditional MBA applicants typically have upwards of three to four years of experience post-undergrad.
I believe in the power of showing up, regardless of what arbitrary constraints people impose on a selection process or what they say they're looking for. I didn't think I'd get in, especially not as a round-three applicant, but I put together my application in five days and sent it in anyway.
I had nothing to lose and everything to gain. I checked in with SOM's admissions office for the next few weeks and spoke to any and every higher power who'd listen. A week before I'd receive my interview invite, I happened to meet a friend's dad whose childhood classmate was none other than Anjani Jain, the dean of the MBA program at SOM.
I steered the conversation to my recent application to SOM, and he connected us. The next Tuesday, I received a call informing me I had three days to either do a Skype interview or show up to New Haven and interview in person. I didn't have formal suits or high heels at the time (nobody wore either in my office), but I hastily got some, bought a plane ticket and arrived in New Haven on Thursday night.
I followed up with Dean Jain to see if he'd have time for a 15-minute conversation after my interview. We ended up talking for almost an hour—about SOM, my goals, my journey before SOM and what I valued most personally and professionally.
I'll never forget that conversation; it was the first time in years someone had given me a second chance to explain what difficulties I had had and why I had the potential to make an impact. A few days later, I was informed I'd been accepted as the youngest member of the inaugural class of the accelerated MBA/MPH track.
Now, a year into the program, I've carved out my niche in healthcare management and oncology by continuing to work at Medivation, TAing a class for Yale physicians on foundational business principles, and serving as managing editor for the Yale Journal of Health Policy, Law and Ethics.
These experiences have allowed me to envision a career where I can be a physician as well as the leader of a hospital, enabling patients to feel empowered to take charge of their health, not just their illnesses.
Looking back, hitting rock bottom may well have been the catalyst I needed to invent who I am and will be.