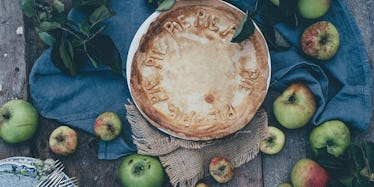 8 Healthy Fall Desserts That Will Make Date Night With Your SO Even Sweeter
Annie Spratt/Unsplash
Fall is the perfect time of year to snuggle up with the person you care about most. They'll keep you nice and warm as the temperature outside drops. Needless to say, date night can be as simple as a quiet evening at home, complete with cuddling and a delicious home-cooked meal. As long as you're with your bae, you'll have a great time. We all know that there are so many exciting flavors that come with this season, too. I personally cannot wait to eat every single pumpkin-flavored treat I can possibly get my hands on. If you're like me, luckily there are so many healthy fall dessert recipes to make for date night.
You don't have to stress about finding the perfect recipe, because I have you covered with several delicious options. We all know your SO's sweetness will be pretty difficult to top, but these desserts will do just the trick to end your date night. These recipes are also all super easy to make, so even someone who's new to the kitchen can make them at home. If you know your bae is better at cooking, you can tell them to make the dinner, and you'll cover dessert. Now, it's decision time. What to make? With so many fall foods, the possibilities are endless, but here are eight easy and healthy fall dessert recipes to consider. Warning: Watching all of these videos will make you want to skip the meal and go straight to dessert, but that's not necessarily a bad thing.
1. Chocolate Pumpkin Bread
There's so much you can do with pumpkins and sweet potatoes. In this video, they give you recipes for not only chocolate pumpkin bread, but also sweet potato pancakes, pumpkin date cookies, and sweet potato marshmallows. Plus, all of these recipes are vegan.
2. Single Serving Apple Pies
These mini apple pies are just too adorable. You can make one pie for you, and one pie for bae. This tutorial also highlights pumpkin bread and pumpkin muffins, if you feel like keeping your baker's hat on for a bit longer.
3. Maple Almond Fudge
The great thing about these maple almond fudge treats is that they're vegan, and so easy to make. You can make a big batch for your date night. Snuggle up on the couch, pop a movie in, and enjoy.
4. Pumpkin Cheesecake
With this tutorial, you can put together a whole pie, or whip up individual cheesecake bites. The bites are super cute and delicious. And the best part about them? You can save some for tomorrow.
5. Pumpkin Spice Bars
For all of you PSL lovers out there, here are some pumpkin spice bars you'll fall in love with within the first bite. If either you or your SO is gluten free, this is the dessert for you. This tutorial also includes baked granola apples that pair perfectly with some vanilla ice cream, so your tastebuds better get ready to swoon.
6. Apple Crumble
You can't go wrong with an apple crumble for dessert. This video also has a pumpkin Frappuccino recipe that you can make to go with your apple crumble. This is a perfect dessert duo if I ever saw one.
7. Candy Corn Fruit Parfait
This is probably one of the healthiest fall dessert recipes on the list. It includes a serving of fruit, and the overall presentation looks just like a candy corn. It's absolutely perfect for fall.
8. Cranberry Upside Down Brownies
If you're a major fan of brownies, this pick is for you. These cranberry upside down brownies look amazing and spotlight such an incredible sweet and tart flavor. You can also use the leftover cranberries in this recipe for the cranberry almond bark recipe that's the last recipe in the tutorial.