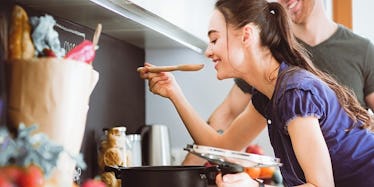 7 Butternut Squash Recipes You Can Make With Bae For Date Night This Fall
S_L/Shutterstock
Staying inside and snuggling with your bae for date night this fall is something worth anticipating. As much as pumpkin tends to take the spotlight this time of year, you can't overlook butternut squash. Just like pumpkin, butternut squash can be utilized for many dishes you two can try to whip up together in the kitchen. Trying out butternut squash recipes for your date night can be an exciting and educational experience for the two of you. Even if neither of you have ever tried cooking with this particular squash, you'll delve into the new discoveries together. It's time to get out of your comfort zone.
Cooking together is almost as important as eating together. Besides, if you're going to be a homebody for a date night, might as well make some noise in the kitchen and experiment with a new squash. The potential of butternut squash is endless, and it can be used for many of your dinner and dessert ideas. Even if butternut squash is seemingly the runner-up to pumpkin, it still has yummy dishes we should all want to get our hands on. Spice up your date night (literally) by staying home and trying out some appetizing butternut squash recipes.
1. Your Stomach Will Thank You
Almost anything roasted pairs perfectly with those chillier months when we spend more time indoors. There's something about smelling the aroma of the oven as you anticipate a delicious meal. The time will pass a lot faster since you're waiting around with bae... and this simple roasted butternut squash recipe will do the trick.
2. Warm Up With Butternut Squash Soup
Don't be fooled; a nice large bowl of soup can certainly suffice as a meal. Get super basic with it and feed your partner in crime the first sip. Don't forget for it to cool down a bit so you don't burn the poor guy.
3. Taco Tuesday Just Got Better
We are incredibly thankful for tacos, because they continue to enter our bellies in different forms every day. Who knew tacos could literally be stuffed with just about anything? Now that's spicing up your life.
4. Try Not To Drool Over This Caramelized Perfection
Tossed in some brown sugar and baked? Your idea of dessert has definitely been missing out if you haven't tried this before. It's also fair to say that caramelizing just about everything is OK in our book.
5. Fries Complete Any Meal
Not even side orders are safe from butternut squash possibilities. It'd probably be borderline impossible to eat just one. It might also be hard to share with your boo. Sorry, not sorry.
6. These Fritters Look Too Good To Be True
OK, how often do you even get to say the word "fritter" and follow it with a story about how you made and ate one? Well, cross it off the list after your date night. Also, it couldn't hurt to feed a few to your oh-so-helpful assistant.
7. Bake It Till You Make It
Bread is another one of those holy grail foods that blesses us with so many options. Where would we be without you? Butternut squash bread is the perfect, sweet ending to a dinner date night indoors. Cooking with your bae for a date night is a great way to unwind and reconnect. Try it, and you'll be cooking up a lot more than you think.