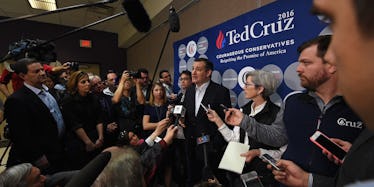 Here's What 5 Presidential Hopefuls Have Planned For Health Care Reform
Getty Images
In November 2016, the American people will elect the next president of the United States. In the meantime, a number of candidates are fighting tooth and nail to put themselves in the best position possible to be their party's nominee.
With all the debates, media coverage, rumors and ad campaigns going around, it's no easy task to separate facts from fiction with regard to the candidates' stances on major issues. To help you sort through the static, here's a brief summary of the health care views of five major candidates:
1. Ted Cruz
Texas senator Ted Cruz adamantly opposes the Affordable Care Act -- according to On The Issues -- vowing to repeal the law down to "every single word." You may remember the senator leading the 2013 government shutdown in defiance of the initiative.
After he defunds and repeals the ACA, Cruz proposes replacing the system with market-based health insurance. In 2015, he introduced the Health Care Choices Act, which would allow people to buy health insurance across state lines, according to The Hill.
It would undo much of the ACA, including the mandate to buy insurance, marketplaces and subsidies. To help bolster Medicare, Cruz has proposed gradually increasing the eligibility age and moving to a premium support system.
2. Donald Trump
Like senator Cruz, Donald Trump supports repealing and replacing Obamacare, according to On The Issues. He calls the law a "complete disaster," and is instead in favor of a free-market system that allows citizens to purchase plans across state lines. This, according to Trump, would increase competition and thereby reduce the costs associated with health insurance.
He has also expressed interest in (and possible support of) health savings accounts -- like the ones proposed by Ben Carson -- as Politifact reports. Trump has promised to save Social Security, Medicare and Medicaid through economic growth.
3. Marco Rubio
Florida senator Marco Rubio joins his fellow Republican candidates in their desire to defund, repeal and replace the Affordable Care Act, according to On The Issues. Rubio thinks the ACA stifles innovation with too many regulations. Therefore, he supports a market-driven alternative.
This would include providing alternatives to employer-based insurance and expanding Medicaid choices without changing the system for anyone over 55. The senator believes all children should be vaccinated, with only some leeway for medical exceptions.
During the Ebola scare, Rubio proposed temporarily banning visas for non-US citizens who were traveling to regions affected by the virus, and targeting the problem at the source. He also wanted to focus on developing a vaccine.
4. Hillary Clinton
Former Secretary of State Hillary Clinton believes that universal health care is a core Democratic principle. While she supports the Affordable Care Act, Clinton does have suggestions for change: namely, decreasing the out-of-pocket costs, increasing price transparency and blocking increases in premium costs. Clinton has long been an advocate for universal health care, and believes the United States should be involved with international health initiatives as well, particularly in the battle against HIV and AIDS.
Clinton believes children should be vaccinated. She vows to lower the cost of prescription drugs, incentivize drug companies to invest in research and fight for women's access to reproductive health care. During the Ebola crisis, she advocated sending resources to Africa, in addition to fighting the virus at home.
5. Bernie Sanders
The senator from Vermont has proposed a "Medicare for all" system of health care, believing it is a fundamental human right. While he voted for the Affordable Care Act, Sanders thought the law did not go far enough. He would prefer a single-payer system.
In Sanders' plan, insurance would not be tied to employment. State and federal governments would provide health care to all Americans. A national oversight board would establish a budget, and participating states would be required to set up their own single-payer systems. The senator believes vaccinations are safe and effective, and that choosing not to vaccinate children is dangerous.
Whatever the candidates' opinions are on the health care policy, at a basic level, they all agree everyone should have access to affordable health care. Being informed is the first step toward taking care of yourself.
This article was originally published on Single Care.