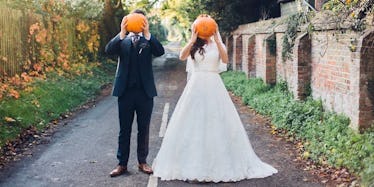 These 10 Halloween Weddings Are Spooky And Chillingly Beautiful At The Same Time
Once autumn makes its highly-anticipated comeback, we fall hard for the chill in the air, the colorful leaves falling to the ground, and that undeniable excitement that signals the start of Halloween season. TBH, what is there to hate about fall? Nothing, that's what. Fall is truly the most perfect time of year. It's beautiful, festive, and it comes with pumpkin spice-flavored everything. People seem to have an extra skip in their step, school isn't terrible (yet), and winter is still just a distant thought. That's why this season is the best time to jump on your Halloween wedding ideas.
Get those Pinterest boards ready to go, because Halloween weddings are the perfect marriage between a fall wedding and a festive costume party. You get to enjoy everything you love about this scenic season on your big day. As a bonus, your wedding celebrates the endless amount of love you and your future spouse have for each other. If you both have a soft spot for Halloween, they why not get married on that very day?
Every year, lots of couples have their big day on this especially spooky day, and each year, the weddings get bigger and better. At first, it may not seem like you can go very far with a Halloween wedding. Maybe you'll have a spider here, and several pumpkins there. But, there's so much more you can do. These 10 chillingly beautiful Halloween weddings are just scraping the surface of the endless possibilities.
1. This Couple Kept It Spooky And Sweet
I am seriously in love with this Halloween couple. What I love even more is the fact that the bride rocked a black wedding dress. This wedding definitely deserves all the oohs and ahhs.
2. A Perfectly Creepy Courtyard Is The Best Kind Of Backdrop
How perfectly creepy is this courtyard for a Halloween wedding? The brick path and multitude of flowers create such a stunning backdrop for tying the knot. The venue is important, people.
3. We're Here For This Corpse Bride
Do you like your weddings a little more on scarier side? It seems as though this couple does, too. Somehow, they pulled off the half-dead, totally beautiful look without a hitch.
4. All Eyes Are On This Autumnal Bouquet
OK, this bouquet is the stuff of dreams. I honestly don't think I've ever seen one quite so beautiful. The florist captured all the beauty of the day in a stunning variety of fall colors and flowers.
5. This Pumpkin Couple Looks Totally In Love
Things are getting spookier now... if you consider jack o' lanterns spooky, that is. The groom's classic tux paired with the bride's stunner of a gown is slaying the Halloween game. I wonder if they held up those pumpkins the entire time. If they did, major props to them.
6. Let's Talk About This Skeleton Vase, Though
I love how this couple went for simple elegance, and combined it with their cute and festive Halloween accessories. Just look at the top hats and that skeleton vase. We're wishing we had an invite to this wedding, that's for sure.
7. This Halloween Setup Is Magical
I'm honestly shook by this Halloween wedding photo; it looks like it came straight out of a fairytale. This wedding captures all the grace, but with added accents that perfectly define the Halloween spirit. I seriously cannot get over how beautiful that tulle skirt is. Where can I get one?!
8. Fall Hard For This Purple And Orange Affair
How gorgeous are the orange and purple bouquets? I never would have thought to do purple for a Halloween wedding, but there's no doubt that it's breathtaking. And on an extremely important side note, could the bride's less lace wedding gown be any prettier?!
8. A Black Wedding Dress May Very Well Be Essential
When I think of a Halloween wedding, this picture gives me all the feels. From the bride's black mermaid-style dress to the foggy field, this breathtaking wedding takes home the gold. Get ready to get your spook on.
9. The Autumn Weather Is Everything
I'm in love with subdued colors this bride and groom chose. Their theme tells you it's around Halloween time without the spiders, ghosts, and pumpkins. The falling leaves around them really add a magical quality.
10. Tis' The Season For Halloween-Inspired Makeup
OK, hold up. Can we talk about how perfectly colorful this photograph is? The couple's Halloween-inspired makeup hints to the day and festivities in the best way possible.