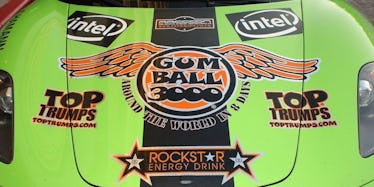 Why Gumball 3000 Is The Most Badass Car Race You've Never Heard Of
Getty Images
Car drivers and enthusiasts alike have April 30 marked prominently on their calendars. However, no one who truly loves automobiles can forget the date Gumball 3000 begins its annual, 3,000-mile journey.
Last year, the luxury automotive road trip featured 100 cars and drivers from 30 nations. Now, Gumball 3000's founder, Maximillion Cooper, will lead the race across seven European cities over the span of seven days.
Even if you can't afford to take part in the legendary road trip this year, here are five reasons that'll make visiting the displays and parades hosted in Dublin, Edinburgh, London, Prague, Budapest and Bucharest worth calling in sick for:
1. The Fastest And Weirdest Cars On The Planet
Gear up to feast your eyes on some of the finest creations from leading car manufacturers and customized designs that testify to the drivers' unique tastes. Since Gumball 3000 started in 1999, the rally has been known to wow the crowd (and spark the jealousy of other drivers) with a collection of some of the latest, greatest, fastest, priciest and craziest cars from all over the world.
This is the only place where you'll find a 1920s automobile lining up next to a futuristic concept car, a supercar, a hybrid, an American muscle car, a Bentley or even Batman's tumbler. Since every year's race gets the drivers' creative juices flowing, expect to see an amazing collection of cars this year as well.
2. Top Race Car Drivers
The men and women behind the wheels of these exquisite vehicles are the heart of Gumball 3000. Prepare to meet some of the top race car drivers in the world, as well as celebrity teams.
One team that's definitely returning this year is "Team Wolfpack:" winner of the 2014 Best Team Award. Leading it is Josh Cartu, Ferrari club president and renowned Ferrari race car driver.
Cartu has made a name for himself in auto racing circles in the US, Europe and Israel over the span of his career. Joining him is Team 57, winner of the Best Photo Of The Rally in Russia. Expect to hear more familiar names a couple of weeks before the rally starts.
3. Celebrities And Royalty
Gumball 3000 was founded to bring together the worlds of cars, music, fashion and entertainment. This is a goal it remains faithful to, even in its 18th run this year. Joining the rally are celebrities from each of these industries, including Formula One world champion Lewis Hamilton, Afrojack, David Hasselhoff, Bun B and The Alchemist.
You can also expect to spot Forbes 500 entrepreneurs, as well as members of Middle Eastern Royal families. If they aren't too tired after Maximillion Cooper's daily wild activities and the long routes they've traveled, they may even pose for a photo with you or give you an autograph.
The list of celebrities is not out yet, but you will be seeing the likes of Sullivan Stapleton, who will be there with Josh Cartu this year. Cartu announced Stapleton's presence recently, and also declared he's a fan of not only Stapleton's onscreen work, but also his daredevil attitude.
4. A Blend Of Six Cultures
Although you're welcome to drop into one of the shows planned in six of the seven cities the rally will travel through, treat yourself to a week-long vacation and follow the Gumballers. You can easily book train tickets to these cities, ensuring you can take part in some of the activities that have been made public for all to enjoy.
While you're there, indulge in the culture of each of these cities. You can even explore them a little before the Gumballers reach.
On the other hand, if you're one of the lucky handpicked drivers participating, trust the man behind Gumball 3000 to make each stop a memorable experience. Unlike the visitors, you'll get the chance to explore the Alps up close and personal before you're whisked away to a private dinner and charity auction that benefits the Gumball 3000 Foundation.
5. Private Parties And A Lot Of Excitement
One of the biggest advantages of being a Gumballer is the loads of fun you're bound to have. Expect a party in each area, including Dublin, Edinburgh, London, Prague, The Alps, Budapest and Bucharest. All of these parties are exclusive to participants, which means you can enjoy them alongside the people who made your 3,000-mile journey memorable.
However, this doesn't mean Gumball 3000 will leave visitors high and dry. All the shows and exhibitions have been thoroughly designed to excite car enthusiasts, and ensure that they return the following year for even more. So, whether you'll be behind the wheel or greeting the Gumballers as they roll into the city, make sure to be there.