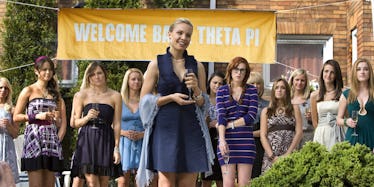 Rush Through It: 4 Ways Greek Life Shaped My College Experience
House Row Productions
I'll be honest: I never thought I would join a sorority. My initial impression of Greek Life at a Southern school was that it was just a large organization of girls looking for an easy way to get boys and popularity.
Having had primarily male friends for most of my life, I didn't think it was possible for me to join an organization dedicated to cultivating female friendships.
Boy was I wrong.
For all the horror stories that seem to be coming out about Greek life these days, joining a sisterhood has unequivocally been one of the best decisions of my college career.
Whether I was planning our spring philanthropy event or crafting for my future little, gaining a sisterhood has helped me cultivate skills as both a leader and a student, which I will carry with me for the rest of my life.
So, before you blow off rushing, consider a couple of things:
Greek life helps you give back to your new community.
When you go to college, you join a new community, with all of its new quirks and personality.
As a new student, it can be difficult to find ways to get involved and give back to the place you'll be calling home for the next four years.
That's where Greek life comes in.
Every Greek organization has at least one philanthropic organization they support, and as a member, it is your job to help raise money for that organization.
So whether you want to raise money for mental illness awareness or give sick children the experiences of a lifetime, Greek life offers a variety of opportunities to get involved.
Recruitment teaches you how to make good small talk.
You have five minutes to make an impression on a potential new member (known as a PNM) who has already visited eight houses before yours. How do you make sure she remembers you after she goes home?
Small talk like this can be incredibly painful if it's not practiced. However, the recruitment process, wherein organizations look for new members to join their chapter, requires that you're good at it.
Through workshops and trainings, leaders teach you how to ask insightful questions that help you get to know a PNM without digging too deep too fast.
By the end of recruitment, you'll be able to make meaningful small talk that makes sure PNMs are itching to come back to your house.
Panhellenic events give you plenty of opportunities to practice networking.
When you go Greek, not only are you committing to your chapter, you're also joining a long legacy of men and women who have committed themselves to making their organizations the best they can be.
And, when they work together, incredible events are put on that benefit everyone in the community.
Behind the huge carnivals and seemingly never-ending event, t-shirts represent committees who have spent the whole year working to make sure the event is the best it can be.
This inter-Greek (or "Panhellenic") cooperation is the backbone of making Greek life the powerhouse that it is.
The teamwork required to put on Panhellenic events can only be achieved through networking and cooperation skills that can be carried into your working life. 
The bonds you make go way past college.
Being a member of a Greek organization means being bonded to thousands around the world.
When you meet a member of your organization outside your campus, you know she will be dedicated to the same types of goals and hold herself to the same standards as you because she is your sister.
So whether you're freaking out about your first year at college or dreading heading back to campus, think about rushing.
While every school's Greek life is different, everyone I've talked to has said Greek life has been one of the best things that's happened to their college lives. The incredible people you find in your local Greek organizations will surprise you if you take the risk.
And to all of my fellow sorority girls, happy recruitment!