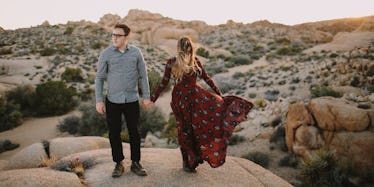 How To Get A Flirty And Fickle Gemini To Finally Settle Down With You
luke + mallory leasure
You've been captivated by her charm, and for a second you consider hanging up your boots and risking it all. But this is natural. After all, she's a Gemini.
Some of the world's most riveting beauties were born under the sun sign. Marilyn Monroe made men straight up lose their marbles by simply standing above an air vent. It's incredible. Today we are graced with Naomi Campbell, Adriana Lima, Natalie Portman, Angelina Jolie and Zoe Saldana.
You may not have any experience chatting with these particular women, but you have definitely spoken to a woman with her traits – that air of mystery that catches onlookers off-guard with a charm that elevates and gravitates us plebs into her orbit.
Gemini is Latin for "twins," and is represented by the twin stars Castor and Pollux, offering another trait: two different sides of personality to the people born under this zodiac sign.
Geminis are largely expressive and quick witted. Geminis are known to get serious and contemplative, often branded moody by people who don't spend enough time getting to know them.
If you have taken time getting to know and somehow managed to convince the Gemini that you are remotely interesting, now is the tricky part: convincing her you're worth settling down with.
You've been on your toes since dating a Gemini. You have no clue what or where your next date will be; you just pack like you're going out on any day in London, really – umbrellas, sunglasses, sunblock, scarves and coats. Anything can come up.
Her inquisitive, adventure-seeking nature has stopped short of tickets to space, but that's why you're absolutely besotted. There's never a dull moment being in a relationship with a Gemini.
Gemini are known to be mysterious and enigmatic, but that tends to leave the people fawning over them in a bit of a quandary, unsure of the direction of their presumed relationship. Will it end in bliss and bells or will it be a failed boyfriend experiment gone f*cking haywire?
It can go either way with a Gemini. Geminis have a level of inconsistency instilled that some may see as manipulative and callous, but this is the downer to their usual purview toward joie de vivre.
Because they seek to lift the spirits of the people they love, Geminis tend to forgo their own deep emotions, keeping them bottled and at times, unmentioned.
But this is the key to opening up their charming box. The true way to finding the centre of a Gemini's heart is to be sincere and earnest in your feelings as you care for them. They don't want the world, and they certainly don't want to be the centre of yours.
But when everything in their seemingly adventurous life crumbles, a Gemini will seek the sturdiness that your love and honest devotion has always offered.
It may take a while to fortify the bond. You may be tested with instances of rebellion, just to see if you are serious and mean to stay 'til the bitter end. But once you've made your Gemini lover stick around for the long haul, be sure to offer them intelligent, thought-provoking conversation.
Gemini are like temperamental flowers that need regular watering; routine is kryptonite to a Gemini. Surprises and simple sentimental gestures can get you far with with a Gemini.
They are also known to be fiery lovers with a flirty streak. So be sure to have your wits about you when you're out in public with a Gemini who's so enigmatic and alluring.