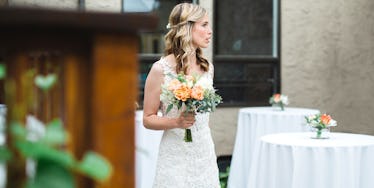 But How Full Is The Glass? How Excessive Optimism Can Ruin Your Life
by Aleksandra Slijepcevic
Stocksy
We've all met those people who are happy, bubbly and positive 24/7.
If their cat died on a rainy Monday morning and they were late for work, they would still manage to smile. I think there's something wrong with that.
In my last post, 10 Reasons Why Losing Your Sh*t Will Make Your Life Come Together, I stood up for the broken and confused because we've all been there when life craps on you.
I still believe there is a lesson in every loss and a reason for everything we experience, but that doesn't mean we have to pretend to be happy when we're simply not.
Let go of the new-age stuff, where everyone is beautiful and peaceful and we all meditate together because no one is angry. That's not real, and those people are the really angry ones, at least subconsciously.
Welcome the idea that happiness and positivity are not full-time sensations in anyone's life. I practice yoga, but that doesn't mean that I smile all day and hug everyone. I have days when the thought of social interaction ticks me off to no end. Today is one of those days.
However, I go through my day with honesty, knowing that if I lie to myself and pretend that I'm happy, it will only muck up the true feeling that comes eventually. Why pretend? You're allowed to be something other than "happy."
If you must be angry, be authentically pissed off.
We're told to do yoga, meditate, eat well and be genuinely happy. Coming from someone who does all of those things, I am in full agreement, but to a certain degree.
We've pushed to the far end of the extreme, believing that if we keep up this charade of happiness, we'll circle around our problems, fears and anger.
It doesn't work that way; being overly optimistic is not authentic if you're using it to cover up your very real sadness, fears or anger.
There is a fine line between being fake happy and being thankful. A few years ago, I lost my job and found myself back in the unemployment cesspool.
Every day felt like a slow death as applications went out and nothing came back in, but I realized that if I spend another month kicking myself while I was down, I would never get back up.
Soon, I started making daily lists, on which I wrote down what and for whom I was thankful.
It quickly made an impression, and while it didn't help me find a job, it alleviated the fear and anger that builds up when you think you've hit rock bottom. I wasn't happy, but I was thankful for the many little things in my life I previously took for granted.
I have a friend who is bubbly and happy to the point of sickness. She is one of those people who would smile and look on as she buried her cat on a rainy Monday morning.
Being human, she has fears and anger, like we all do, but because we've christened those feelings as "bad," she stuffs them far down and replaces them with a faux version of happiness and glee.
Why? Because, like many, she believes that optimism always wins, and while that may be true, it's not the reality in which we live.
Bad things happen and we get hurt; it's the duality of life. To move on from that and acknowledge it is to live a balanced life. I am by no means saying that you should not look at your world as a glass half full.
On the contrary, I look at it as a shot glass of hope. I also accept that I will undoubtedly have spills and the glass might crack.
Be thankful for your happiness, but don't chase after it when it's not meant to come.
There are other feelings — albeit, not as pleasant — but they exist to show us that we are so much deeper than a superficial layer of smiles and good graces.