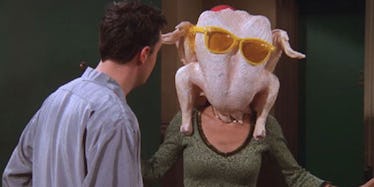 7 Ways To Throw A Friendsgiving Feast On A Budget
Warner Bros. Television
Let's be real: Friendsgiving is the Thanksgiving alternative you want to have instead of the obligatory family dinner that, in my case, has often ended in angry and later regretted exits.
In order to bring the group together, my friends and I throw a Friendsgiving every year, usually the first weekend in December.
None of us are wealthy, so the dinner is never a huge event.
In fact, may of our friends are still college students or underpaid employees struggling with student loan debt, so when we throw our annual party, we have to be budget conscious.
Here are seven ways you can throw a Friendsgiving feast with limited resources:
1. Pool money, or host a BYOB+ event.
Gather money via PayPal or some other money sharing method to buy alcohol. This often lets you get bulk items or better quality booze than people could afford on their own.
If that's not a viable option, make it BYOB+ and make everyone responsible for bringing whatever they want to drink (plus a little extra to share).
Nothing makes a Friendsgiving party more lame than running out of booze and not being able to afford to go get more, so plan (and drink) responsibly.
2. Potluck the side dishes.
Have guests bring a side or a dessert to share, and coordinate to make sure you don't double up too much.
You can use Facebook groups, Twitter chats (using hashtags) or websites like PerfectPotluck to stay organized.
3. Combine shopping to get discounts.
Many stores offer discounted prices on turkeys and hams around the holidays, but you often have to spend a minimum amount to get them. So if you need to, combine shopping with a few friends to meet the required total.
In my area, Winco Foods offers a free turkey if you spend over $100. Find out if this deal is offered anywhere in your neck of the woods!
Need more than one? Get a couple of groups together and combine Friendsgiving shopping with your weekly grocery run.
4. Clip coupons.
Normally, I am not a coupon kind of guy, as it seems to eat up a tremendous amount of my time.
And yet, for the holidays, there are often coupons and special sales on things you are actually going to use and buy anyway.
If you end up with a big party like we do, getting the most for your grocery buck means a little more money for booze. And that's never a bad thing.
5. Host the party at home.
On many occasions, my friends and I have thought about reserving a room at a restaurant, hosting the party at a clubhouse or event center.
There are a few issues with this approach:
- If we host, people know what to expect at our house. Whenever we host parties elsewhere, guests arrive unsure how to act because they aren't sure what the rules are. People know the kind of parties we throw, what we tolerate (almost everything) and what we don't (almost nothing).
- Venue rentals can be expensive, and so can cleanup. At our house, we can delay cleanup if need be. And if something is damaged, at least it belongs to us and we can deal with the consequences.
- Sleepovers are allowed and encouraged. If someone is too intoxicated or simply too tired to drive home, they can stay over without having to go anywhere at all. We always make sure we have room and allow for this possibility.
Friendsgivings hosted at home just have a more intimate feel than those hosted at venues. And this holiday is better when it's more personal.
6. Save your decorations.
Thanksgiving comes at the same time every year, and while you might want to mix it up a little bit, reusing decorations from year to year can save you at least some money.
Wall decorations, outdoor signs and other decor can be used year after year. Trust me, no one will remember the paper turkey you have sitting in your front yard.
7. Party-proof your home.
Put away expensive items that might get broken, and use disposable table coverings (or ones that wash easily) to protect surfaces.
You don't want the party to cost you when it's over, and nothing ruins everyone's evening faster than something valuable being damaged beyond repair.
When it comes to some holidays, you don't get many choices on how you spend them. But when it comes to Friendsgiving, you do.
Make the most of your party, even if you have limited resources. Just be sure you don't have to work the next day, and don't invite your Aunt Mabel.
You'll see her and her poodle again at Christmas.