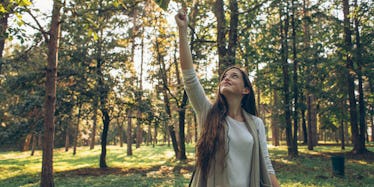 How A Good Friend's Passing Encouraged Me To Embrace Life More Fully
They say losing someone is never easy. I say that's one hell of an understatement.
For the past six months, I've wanted to write something about a friend who was tragically killed earlier this year. No matter how hard I tried, I got lost in memories, tears and heartache. I failed at every attempt to jot those feelings down on paper.
I didn't want them staring back at me.
Matty was only 25 years old when his life on Earth very suddenly ended.
Every once in a while, I mentally replay the phone call I received from his best friend that day for reasons I don't understand and wish would never return. It still haunts me.
During the first few months, I struggled with the denial and acceptance of his death.
Matty was one of my best guy friends. He understood me, and he knew what made me tick. He was my go-to guy for a laugh and a smile, and he didn't even have to try.
He made such a profoundly positive impact on everyone, whether he knew them for 10 years or 10 minutes. Not a single person who knew him would disagree.
Saying goodbye to him so unexpectedly was the absolute worst feeling in the world. I can't imagine a greater pain.
Why am I able to write about him now?
Matty taught me more about life in our few years as friends than I have during my entire 24 years, and those are the words I finally realized needed to be staring back at me.
When I think about my life, I think about everything I've done and still want to do for myself.
Where have I traveled? What have I accomplished? How can I be successful? Why do I do the things I do?
There are so many "I"s
As important as it is to make myself a priority, I often fail to step back and see what kind of impact I have on others. That came so naturally to Matty.
I wanted to be around him all of the time. His smile, laugh, attitude and energy were so contagious that no matter what kind of mood I was in, he could make it 100 times better just by being himself.
Honestly, he's the only person who helped me fully live in the present moment.
I didn't realize that until now.
I'll be the first to admit I sometimes dwell on the past or worry about the future so much, I often fail to appreciate the here and now.
I get so caught up in things I can't control, I lose touch of things I can.
I remember several conversations with my best girlfriend that would start with a frustrated "I can't handle this anymore," and end with "Let's text Bryan and Matty."
The second I saw him or heard from him, nothing else mattered. He was always the breath of fresh air I needed, and he did it so effortlessly.
Matty was born with that incredible gift.
During his physical life, and now in his spiritual life, Matty taught and continues to teach me things no one else could, not even myself.
He taught me the invaluable importance of positively impacting others.
He taught me the need to let go of the things that are out of my control.
He taught me the beauty of living whole-heartedly in the present moment.
He taught me to appreciate the simplest of things.
He taught me to believe in my inner strength and to pray for help when I couldn't find it.
He taught me to find humor in situations where it seemed impossible to laugh.
He taught me to support and be supported by family and friends.
He taught me to forgive what has hurt me.
He taught me to have a positive impact on everyone I know.
He taught me to never half-ass anything.
He taught me that no matter what I'm going through, I'll never go through it alone.
Most importantly, he taught me life is too short to be anything but happy.
Matty makes me want to be a better person. He makes me want to embrace more of everything life has to offer.
He makes me want to smile to make others smile and to laugh to make others laugh. He makes me realize how important I am to those I love and how important they are to me. He made me let them know every day.
I couldn't ask for a better friend.