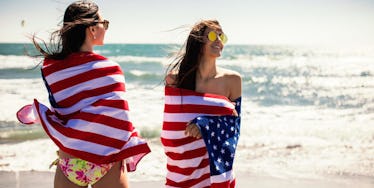 How To Celebrate The Fourth Of July When You're Abroad And Bored AF
Shutterstock
The Fourth of July is a magical holiday. When you're a kid, there's nothing like fireworks and popsicles. When you're an adult, endless red, white and blue Jell-O shots – along with plenty of beer – make it an annual banger.
It's an easy summer favorite, and it's a hard holiday to miss when you can't be in the US to celebrate.
Since we're living in a time when being a loud American overseas isn't always a popular (or safe) move, it's difficult to find ways to keep that Independence Day spirit alive without calling too much attention to yourself.
Here are six ways to say "I love you, Declaration of Independence" while you're overseas.
1. Have a barbecue.
If you're hanging out with locals, you'll be surprised at how novel a good, old-fashioned American barbecue can be. While it's not always easy to find racks of pre-sauced ribs at your friendly foreign grocery store, know that hamburgers and hot dogs are always easy to find.
That summery, patriotic feeling will come right back to you, and your friends will have a great time acting like "Americans."
2. Hit up an expat bar.
As I've been living in Prague for the past month, I've found there are a plethora of bars dedicated to serving up American favorites to hungry expats. This holds true pretty much globally: Wherever an American passport can get you, an American bar will pop up.
Will it be cheesy? Yes.
Will they be playing Bruce Springsteen? Probably.
Will you love it? Abso-friggin'-lutely.
3. Get your fireworks on.
While you may not be able to have massive explosions going off in the sky, looser fireworks sales restrictions in many countries means it's pretty easy to get your hands on some decently impressive fireworks.
Check on the rules at your local park, beach or Airbnb backyard. Grab some of those bad boys and (carefully) enjoy your own fireworks show.
Nothing says Fourth of July quite like loud noises.
4. Make the ultimate 'Murica playlist and blast it all day long.
I know I already said that Bruce Springsteen was tacky, but admittedly, you really can't go wrong with "Born In The U.S.A."
Hop on Spotify and load up a playlist with anything that has "America" in the title. I suggest "American Woman," "Party In The U.S.A," "American Pie," "Kids in America" and pretty much anything country. What could be better?
Bonus: Throw a party and blast this playlist for all to hear. If you're doing it in public, however, maybe use some headphones.
5. Have a patriotic film night.
Sometimes, spending the Fourth of July in is the best way to go. And there is no shortage of patriotic movies floating around for you to watch while you do it.
Grab some American beer – you can seriously get Budweiser anywhere – kick up your feet and tuck into "Top Gun" or "Independence Day." There's nothing quite like a light buzz and an action movie to make you feel right at home.
6. Teach your friends American drinking games.
You know what they don't do overseas? Play beer pong.
I know, I know: This seems ludicrously backwards.
But it's a fact. Grab your travel buddies and some local friends, and teach them the art of tossing ping pong balls into plastic cups. You'll have a blast showing them the ropes, and they'll have a blast learning them. It's a win-win.
Bonus: You can totally find the rules of the game, True American, (as invented by the creators of Fox's "New Girl") on the internet, and there's nothing quite as fun as jumping around on furniture while randomly chanting the names of dead presidents.