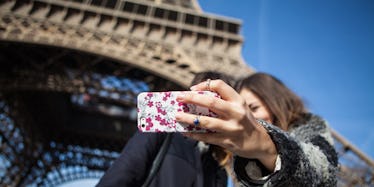 I Survived: 5 Ways My First Trip To Paris Was Shaped By The Attacks
Friday evening after work is the time you're finally looking forward to your upcoming weekend.
It was Friday the 13th; that thought did cross my mind.
But then again, who cares about that stuff anymore, right?
I had the best plan: a weekend in Paris.
It's one of the best destinations in Europe. It recalls all the romance, macaroons, good wine and elegant spirit of France.
After we dined at a cozy Parisian restaurant, my friend told me, "Let's go and see the Eiffel Tower by night. You are in Paris, darling. We need to do all that stuff!"
It was my first time in the city. So, of course, I wanted to see this glorious symbol.
I wanted to take my phone out to take a picture. When I did, I saw that the screen of my iPhone was filling up with messages and missed calls.
"Are you okay?"
All of them were saying the same thing.
I showed the text to my friend, as I had no clue about what was actually happening.
I needed to call abroad to my beloved ones to actually understand what was happening just around the corner.
That was the moment my glorious and exciting meeting with Paris started filling with confusion and a little bit of nervousness.
We decided to get somewhere safe, as nobody understood what was actually happening. The media was filled with threats and reports about the shootings.
By now, everyone knows what happened in Paris on the 13th of November, 2015.
Through shock, a little bit of fear, a sense of community and a lot of people around me who did not know how to react, I am taking a big breath.
I can say these short hours of the weekend taught me a lot. Here are five lessons I learned:
1. Be happy for this moment. This moment is your life.
I have always known this phrase, but this is the first time I have actually experienced it.
The "romantic" moment of meeting the city turned into a scary walk home. I was afraid of everyone around me.
Just one minute has changed my perspective.
I went from relaxing on the weekend to wanting to be safe.
2. The union of two people is so important.
It is sad we forget this so often, but we tend to band together in crises.
During moments like these, you actually realize how important it is to stand together.
The union of humanity is such a strong power. It makes all of us feel like one.
At the end of the day, we are one. We need to support each other.
3. Let people know how important they are to you.
The more I live, the more I realize it's so important to show and tell people what they mean to you.
Unfortunately, sometimes, it will be too late.
In moments of crisis, you understand who means the world to you.
You realize how much you would like to say and do with those people.
Just go and do it now.
Life is not waiting for you to wake up.
4. Live it.
As depressing as that incident was, life continues.
We all need to live. We need to grow with each moment, enjoy life and learn the best we can.
No matter what, we need to move on.
5. I will probably remember my first time in Paris forever.
I am so sorry for the fact that it turned out this way.
But at the same time, I thank the city and people of Paris for teaching me the value of now and the importance of sticking together.
Let's live for humanity. Appreciate it.