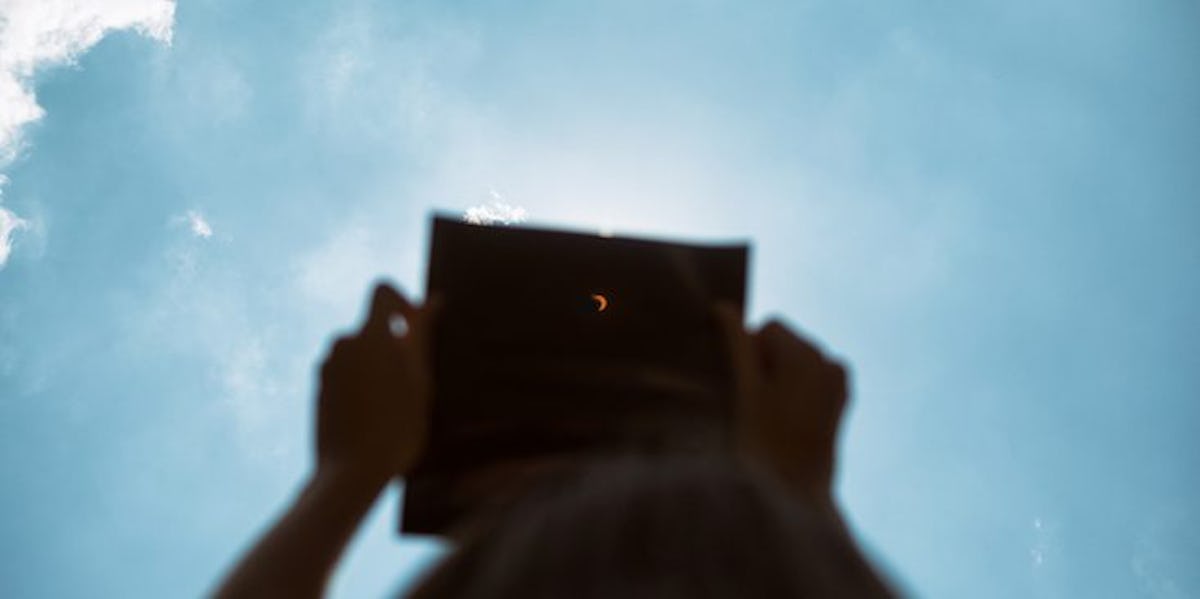 How To Figure Out When The Solar Eclipse Will Be Visible In Your City
Sean Locke
On Aug. 21, a total solar eclipse, dubbed "The Great American Eclipse" will cover the United States in the sun's shadow from coast to coast, for the first time in almost 100 years. I've written extensively about it from an astrological and spiritual perspective, on what the eclipse means based on your zodiac sign, but not everyone is a fan of my witchcraft nonsense and I understand that. So now is the time I give the people some hard info about where the solar eclipse will be visible in your zip code
It's a huge astronomical event some people are traveling to see, as from Oregon to South Carolina, 14 states will go dark in the middle of the day over the span of two hours. When the moon blocks the sun, day will turn into night and make the sun's atmosphere, the solar corona (possible name for a wedding band?) visible.
Here's how the eclipse will look, according to your zip code:
Whether you're in the path of totality or not, you'll experience a partial eclipse lasting two to four hours, regardless of where you live in the United States. Vox has created an incredible tool to show you just how much of the eclipse you'll be able to see from your zip code.
Literally all you have to do is enter your zip code, and the tool shows you what the eclipse will look like from its start to peak and its finish, based on where you live.
I make my living writing astrology articles for a blog, so obviously, I live in Brooklyn, New York. Although that isn't in the line of totality, I'll still get to experience a good amount of fun eclipsey-ness (now a word I claim as my own), and have a good amount of darkness to look forward to.
By the time the eclipse reaches its peak in Brooklyn at 2:45 p.m., it'll be almost completely dark.
And if that isn't enough for me, the map below it shows exactly how far I'll have to travel in order to experience 100 percent obscuration.
Although, allow me to warn you: It could be tough at this point to book a hotel room somewhere within the eclipse's line of totality, especially now that we're officially in Mercury Retrograde.
Don't forget these eclipse safety rules.
NASA has put out a couple of safety reminders for those who want to view this eclipse. One thing to remember is that your regular sunglasses will not suffice. Looking directly into the sun requires special lenses to protect your precious peepers.
Make sure the product you purchase is neither scratched nor damaged before you use them, and be sure to supervise children using eclipse glasses.
There are also instructions to consider if you're planning on driving through the eclipse on the day of, to a better viewing area. One suggestion is to arrive at your destination within the line of totality at least a few hours before the event, and to consider that traffic will be heavy as many people will be trying to view the eclipse that day, so plan ahead.
Overall, this promises to be an incredible visual spectacle, one that you're not likely to forget in the years to come. Just be sure you know exactly how you want to experience it, and make your plans ahead of time!
Do I need to remind you about Mercury Retrograde again?