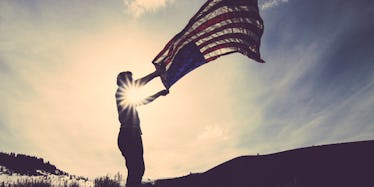 6 Bro Tank Tops Every Feminist Girlfriend Would Approve Of This Fourth Of July
Chandler Erisman/Snapwire/Unsplash
While the Fourth of July is all about celebrating the United States, it's also an appropriate time to recognize all of the ways our nation could continue to honor and support its citizens... including feminism.
Inequality is still a major problem our country faces. It's the duty of every citizen to take action for what they believe in, even if that means being very public about your opinions.
Why not voice your beliefs on your sleeve, or rather, on your patriotic tank top this holiday?
For all of the bros out there, these six tank tops will definitely win some major brownie points with your feminist girlfriend this Fourth of July.
1. This Patriotic Number
Women's Rights Are Human Rights Tank, $23.95, Emptees For You
Let's be honest: Dating a man who genuinely values women's rights and announces it to the world is #goals AF.
Better yet, he can combine his love for the finer things in life (women) and his country with this red, white, and blue-accented tank. It's even printed in the United States.
2. This Bold Tank
This Is What A Feminist Looks Like Tank, $27.90, Zazzle
A straight-to-the-point message puts all doubts to rest. Feminists come in all shapes, sizes, colors, and genders.
This top can be ordered in a variety of colors, including red, white, and blue, or can be paired with your favorite patriotic accessories.
3. This Amazing *AF* Tank, With An Even More Amazing Model
Michelle Obama -- Feminist AF, $37.75, Zazzle
The message alone is enough to get some serious attention this Fourth of July, but adding the former First Lady, Michelle Obama, into the mix gives this design an even bigger boost.
Nothing says patriotism quite like the recognition of all that women have done for the country.
4. This Refreshing Message That Deserves An Applause
A Woman's Place Is In The House Tank, $25, Wicked Clothes
Even though women make up over half of the world's population, women only make up 19.6 percent of Congress.
Feminism is all about equality, including equality in representation. With this tank top, your man can challenge the status quo that plagues us all, no matter how much power we may have.
5. This "Radical" Notion
Feminism Is The Radical Idea Tank, $25, Wicked Clothes
The United States is no stranger to radical ideas, so the idea of equality for women shouldn't be so far fetched.
6. This Simple, But Incredible Message
Resist Tank, $21.95, Etsy
If your guy is more subtle, this tank may be the right way to go. Our country has a history of resistance, so this top could be referring to many of our nation's challenges which are still a problem today.
Plus, it's super easy to pair with anything red, white, and blue for the Fourth of July.