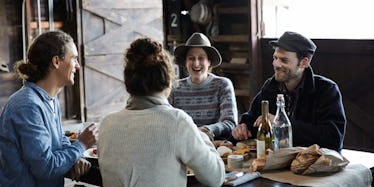 6 Fall Activities You Need To Do At Least Once With Your Home Friends Before 25
Unpopular (or popular) opinion: Summer is great and all, but fall is where it's at. There's nothing like layering sweaters, watching the leaves change, and pretending I'm not basic enough to like PSL's (spoiler alert: I am). It's always around August when I start getting fed up with the summer heat and pumped up for easy, breezy fall weather. Lucky for me, fall is right around the corner.
There are a few fall activities you must do with your hometown friends; it's just what makes the season so great. But after 25, life can get in the way, and it becomes difficult to spontaneously grab your squad and go on a fall adventure. Your home friends have been your constants in life, and odds are, they're not going anywhere. The memories you make with them now will be with you forever.
So, what are you waiting for? Grab your buds and get going. You need to do these six fall activities at least once before you turn 25.
1. Go To A Hard Cider Apple Orchard
Apple orchards were fun when you were kids, but they're even more fun now. Hit up a local apple orchard with friends, and this time, go for the hard apple cider. Apple picking and hay rides are so much fun when you're just a little tipsy along the way.
2. Get Everyone Together To Make A Scarecrow
Throw it back to your childhood days and get your mains together to rake each other's lawns. You're the adults now, and no one can stop you from jumping into every single pile of leaves. Let the chaos ensue, and wrap up the night by making a scarecrow in front of a cozy fire.
3. Set Up A Movie In Your Backyard Under The Stars
Technically, you can do this in the summer, too, but there's something so dreamy about watching a great chick flick under the stars in the fall. Stock up a basket with your crew's favorite snacks and drinks. Set up the perfect hangout in your backyard with pillows, quilts, and string lights, and get ready for a great viewing party.
4. Get Really Lost In A Corn Maze
So, yeah, we can agree corn mazes are creepy. But there's something to be said for the memories you'll all make wandering aimlessly around the corn maze at dusk. Combine this with your hard cider from number one, and you'll all be talking about this hilarious day for years.
5. Take In The Views On A Hot Air Balloon
If your home squad is on the daring side, try spending an autumn morning in a hot air ballon. It's supposed to be the best way to see all of the color changes, and is truly a once-in-a-lifetime opportunity. Just don't close your eyes!
6. Celebrate Oktoberfest In Style
OK, if you're looking for something cool AF to do with your friends in the fall, you have to experience Oktoberfest. The real thing is in Germany, but if you can't make it, lots of places around the country replicate the festival, parades, food, and music in their own towns. Grab your beer and costumes, and have the time of your life.