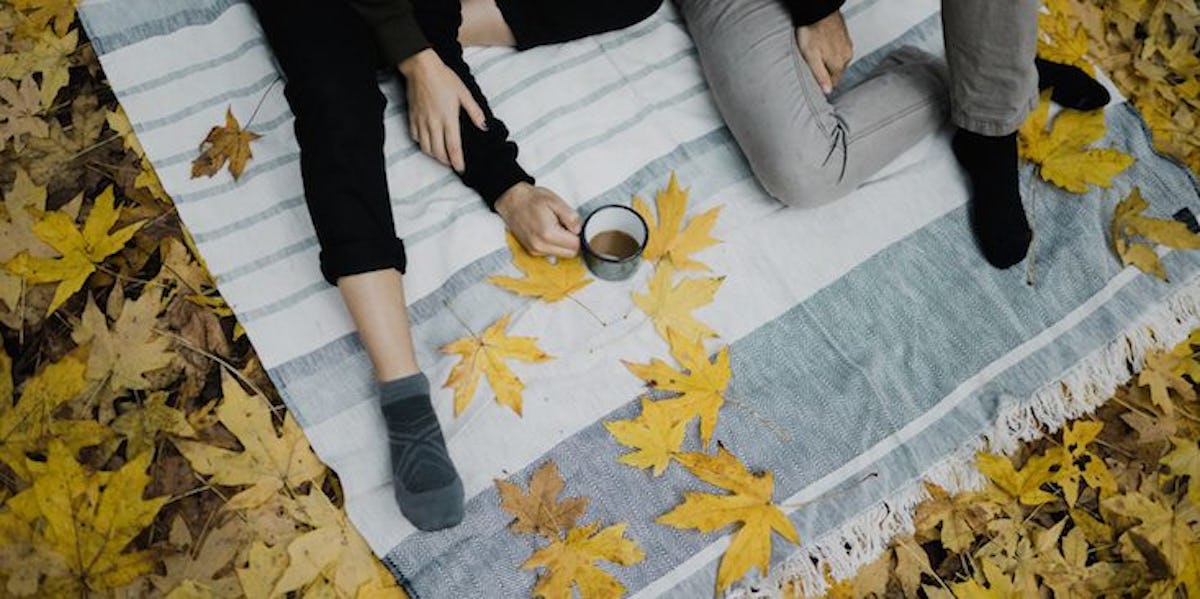 8 Fall Activities That Will Be So Much Better With A PSL In Hand
Ryan Tuttle/Stocksy
While Starbucks is seeing tons of adoration for its summer selection of teas and frappuccinos, us autumn lovers are waiting patiently for the glorious return of the famed Pumpkin Spice Latte (PSL). For those who don't truly understand the hype, the PSL is basically the ultimate fall accessory. It smells like the holidays, tastes like pumpkin pie, and gives you a warm, happy feeling wherever you go. It makes the perfect addition to any outfit or seasonal activity.
It works both ways; a fall-themed activity can make a great addition to a PSL, too. Thankfully there's plenty to do during the most colorful season, so head to your local Starbucks and get to it. Here are eight fall activities that will be better with a PSL in hand.
1. Shopping For The Latest Fall Fashions
If touring the mall with a latte in one hand and a shopping bag in the other makes you feel like a badass glamour girl during the rest of the year, it'll only get better in the fall. Sipping on that PSL will keep you warm and remind you constantly of what a wonderful time of year it is. Shelves are stocked with cozy sweaters and delicious smelling candles, as they should be.
2. Cute And Cozy Coffee Date
No fall coffee date is complete without extending the invite to your PSL, obviously. It adds to the cozy vibe of a cafe, and the intimacy of a date. Whether you're with your BFF or that cutie you met last week, a warm PSL is the perfect start to happily ever after.
3. Touring The Stunning Fall Colors
Road trip, anyone? Grab your squad and a round of Starbucks before you hit the road in search of the ultimate autumn colors. If pumpkin spice won't get you in a mood for adventuring, nothing will.
4. Fall Baking With Your BFF
Whether you're being chill or competing to be the next Iron Chef, a PSL will take your baking game to the next level. As you're rolling out the cookies for the office party, take in every moment of autumn in your kitchen. Let the sweetness of the pumpkin and the warmth of the spice inspire you in your baking endeavors.
5. Surviving Lectures At The Crack Of Dawn
For students, lectures and midterms are an all too familiar part of fall. Caffeine is a savior during times like these, so having fall-flavored caffeine is pretty much the best thing to happen since naps were invented. Maybe fall semester isn't so bad after all.
6. A Trip To The Pumpkin Patch
Going to the pumpkin patch is the ultimate fall activity, so it really doesn't get much better. Add a PSL to the mix, though, and anything is possible. Before you know it, you'll be the physical embodiment of the season itself.
7. Fall Movie Marathon
The only thing comparable to being outside in the golden autumn sun is being tucked inside with a PSL, a cuddle partner, and a good movie. You can let yourself melt into the warmth of blankets, comfy sweaters, and your latte. It doesn't get much cozier than that.
8. Showing Off Your Team Spirit A Football Game
For chilly autumn nights spent by the field, a PSL is sure to warm you up and keep you awake. If you're 21 and up, and more of a tailgating person, a splash of Bailey's or pumpkin spice vodka can go a long way. That's the beauty of the PSL; you can enjoy it your way.