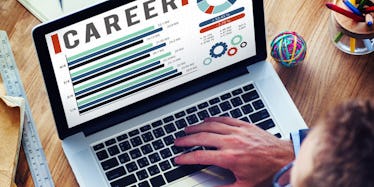 4 Things You Need To Do At An Entry-Level Job To Get Ahead In Your Career
Shutterstock
Be honest with yourself. Is your current job a career, or is it just a paycheck until you find what you really want? If you're like a lot of young professionals, chances are, your answer is the latter.
A 2015 survey by Jobvite found that 32 percent of employees between the ages of 18 and 29 consider their current job a "stepping stone," and 39 percent describe their position as entry-level. While that's common for people just starting out on their career path, it doesn't mean taking the next step toward your goal is any easier, or you can't advance into a long-term job you're happy with.
In order to take your career to the next level, you have two options. You can either do your job and wait for opportunities to come to you, or you can take proactive steps to get the job you want. If you're still reading along, I'm confident the answer is again the latter.
Here are four steps to take to get a satisfying, long-term career:
1. Get your career path in order.
If you were about to embark on a cross-country road trip, would you research a route to the best destinations, or just start driving and hope you didn't end up at a seedy motel in the middle of nowhere?
Your career requires the same type of planning. Find out what types of experiences and skills will help you be successful and how you can get them. Technology and apps have made it easy to research the career path options that are out there in any field. Or, if you're a bit more old-school, meet up with professionals you admire and ask them what it takes to thrive in the industry and position you're interested in.
While researching possible career paths, be sure to take the following into consideration: What technical and soft skills are important in the industry? Which trends are affecting the field, and what will it look like in the future? How important is educational background to industry employers? How many employment opportunities are available, and how much competition is there for those positions?
Once you're better informed about how you can advance your career, you'll be able to identify the right opportunity for you.
2. Decide if you can advance your career with your employer.
Entry-level jobs are called that for a reason; they exist to get employees in the door of an organization or industry. The problem is, not all of them lead to better opportunities.
A 2015 LinkedIn survey found that when changing jobs, 45 percent of employees leave their employers because of a lack of chances for career advancement. Improving your professional skills for your career takes hard work, but you should expect support from the organization you work for. Everything from how feedback is provided to the training offered impacts your chances of achieving your goals.
If you're unsure if staying with your current employer will be beneficial in the long run, consider the following: Does the company promote from within? If so, are promotions awarded based off merit or seniority? Does your manager help you meet your personal career goals, as well as the organization's goals?
Is development fostered through mentorship or training programs? Are there higher positions that will allow you to do what you want and challenge yourself in the future? Have you been offered more responsibilities or leadership duties while in your current position?
The answers to those questions will let you know if you'll be able to move up in the company, or if you'll need to find opportunities at a new organization.
3. Be ready to have the "future talk."
Whether you decide to stick with your current job or not, you need to be prepared to talk with your superiors about your future. And you might have to be the one to bring up the topic.
A 2015 Towers Watson survey found that 62 percent of employees feel their managers don't spend enough time helping them set goals. If you want take the next step in your career, take the initiative to start a conversation about it.
However, simply saying you want a promotion isn't going to cut it. Instead, talk with your superiors about these specific points: What do you and your manager feel your strengths are, and what are concrete examples of how they contribute to the organization? What do you love about your current position, and why do you want to continue to progress up the latter?
What skills and experience do you have that you feel are being underutilized? How would you like to advance your career? What do both of you feel is holding you back from the next step, and how can you prove you're ready?
Remember, this discussion isn't about getting a promotion right away. The point is for you and your superiors to get on the same page about your career path.
4. Set realistic goals.
Careers progress gradually. Just declaring you want to be CEO of Google before you're 30 is neither a productive nor realistic goal. In order to accomplish everything you'd like to do, set smaller, achievable milestones for yourself.
Think about what you've learned by researching your career path and getting feedback from your managers. Then, decide what the next logical step is. To keep from getting frustrated with the progress you're making, make sure to incorporate the following into each goal you set: Are the desired results measurable? Is reaching this goal completely under your control, or does it involve someone else's decisions or actions?
How does this small accomplishment help your overall career track? How can you hold yourself accountable for this goal?
By creating realistic goals, your initial small victories will lead to a virtuous cycle that encourages you to keep working hard and drive towards larger wins. If you take the time to evaluate and plan, you'll be able to make the right choices to advance your career.