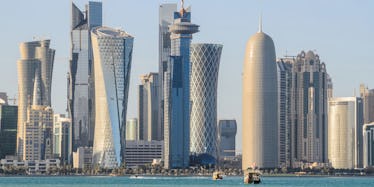 This Dutch Woman Was Arrested In Qatar After Reporting Her Own Rape
Shutterstock
A 22-year-old Dutch woman (CNN has identified her only as "Laura") has been jailed after reporting her rape to local officials in Qatar, the same place set to host the 2022 FIFA world cup finals.
According to her lawyer, Brian Lokollo, the young woman had a couple of sips of her drink before she felt "very unwell." The next morning, she woke up in an unfamiliar location to find "to her great horror" that she had been raped after her drink was tampered with.
When she reported the rape to police, she was imprisoned.
Her lawyer claims he is unclear on what her charges even are. He told CNN this past Sunday, "I don't know what the charges are. To my knowledge she is being held in custody because she reported that she was raped."
Other reports claim that Lokollo stated in an interview with Dutch radio station, NOS-Radio 1, "She was arrested in March on suspicion of adultery, which means having sex outside marriage."
Adultery is a very serious crime in Qatar, as it is in other countries in the conservative Muslim Gulf. According to Qatar's Penal Code 2004 (Law No. 11):
...anyone who copulates with a female above sixteen without compulsion, duress or ruse is convicted to no more than seven years in prison. The same penalty is also imposed on the female for her consent.
Keeping in line with this law, the alleged rapist has also been imprisoned, but he maintains his claim that the sex was consensual.
The Dutch government and its embassy in Doha have maintained close contact with the defendant and her family. According to this statement from the embassy, "We have provided assistance to her since the first day of detention. For the sake of the defendant's case we will not make further comments at this point."
This Monday, she appeared in court for the fourth time for what would be her final sentencing. According to Al Jazeera, she was convicted as guilty of having sex out of wedlock and given a one-year suspended sentence that resulted in her being deported from the country.
Her accused rapist, identified as Omar Abdullah al-Hasan, was also found guilty of sex outside of marriage. He will also be deported after receiving 140 lashes (100 for his sexual acts and 40 for public drunkenness).
The court highlighted that the sentencing she received was actually considered lenient, saying, "Had she been a Muslim woman, she would have received at least five years in jail. No one can get out of such charges here in Qatar."
The "lenient" charge may be a result of a 2014 promise the nation made to the Associated Press to try to find "creative" ways to balance their laws with the desires (and human rights) of their upcoming FIFA visitors.
Citations: Dutch woman jailed in Qatar after reporting rape may face charges (CNN), Qatar to deport Dutch woman convicted of illicit sex (Al Jazeera)