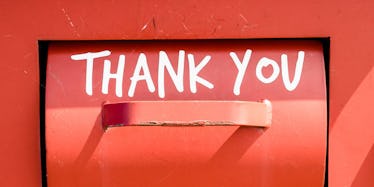 Give The Gift Of Charity: 5 Ways To Donate Your Unwanted Presents
Shutterstock
Christmas is great, until you get a present you really can't use.
Maybe it's a sweater that doesn't fit, or maybe it's a DVD player from your grandmother, who doesn't realize all the kids use Netflix and Chromecast these days.
Maybe it's a toy that you're just a bit too old for.
Maybe it's a can of soup and a package of bologna from that one relative who always forgets to Christmas shop.
Whatever it is, instead of asking for a receipt, share the gift of giving by donating unwanted gifts to people in need.
There are hundreds of charities that accept Christmas gifts, but here are five ideas:
1. Donate clothing to a homeless shelter
It's new, it's unworn and it doesn't fit.
If you're going to brave the traffic in order to do something about it (instead of letting it hide in your closet for a few years), why don't you donate it to a shelter?
With the weather getting colder, there are lots of people in need of warmer clothes.
Those knit socks might not be appreciated in your household, but they might help someone else avoid frostbite.
There are tons of programs available for this.
Your best bet to make sure your donations go to people in your community is to get in touch with your local Salvation Army chapter.
You can also give your Chamber of Commerce a call to see what businesses are running collections.
Either way, it's a great way to help.
2. Give toys to a foster program.
Foster kids have it rough. There's no way around it.
There just aren't enough people, and there's never enough money to make sure all foster kids have a good Christmas.
If you're a parent who's been given toys that aren't appropriate for your kids, or a young adult who still hasn't convinced your family you can buy your own Legos, make sure those toys end up in the hands of kids who would appreciate them.
If you're feeling up to it, you can even adopt a family and make sure their kids get presents they'd enjoy.
Family Giving Tree, The Children's Shelter and Foster Kids Charity are three great programs.
Check in with your local scouting organizations to see if they're running any adopt-a-family programs, or to see if there's anything else you can do.
If you're at a loss for finding a good program, call your local school district.
It keeps track of programs that benefit its students.
3. Donate food to a kitchen.
Make room for your Christmas dinner leftovers before your food coma hits, and pull together some canned goods to donate to your local soup kitchen at the same time.
Going hungry sucks, especially on Christmas.
Soup kitchens and charities rely on donations in order to feed all of the people who are in need.
Check the Homeless Shelter Directory, or reach out to your local United Way.
Nearby churches, VFW halls, Moose Lodges and other community organizations tend to host charity dinners as well.
You can also visit your local library for a calendar for events.
4. Give electronics to an underserved school.
Many schools in underserved areas struggle to maintain computer labs.
They don't have the budget to stay up to date, and as a result, the students there don't have a chance to explore a massive job sector.
Thankfully, there are programs in place that allow you to donate used and unwanted computers and electronics.
Rather than letting that second tablet go to waste, give a kid a chance to learn programming and get a leg up in the world.
Interconnection, Computers with Causes, Computers for Classrooms and Global Giving all accept electronics.
If you're donating used electronics, make sure you've backed up your data and logged out of all of your accounts.
These programs do reformat your hard drives, but it never hurts to be sure.
5. Give video games to hospitals.
Did your aunt give you Mario Kart, despite the fact that you don't own a Wii?
Rather than trying to get in-store credit somewhere, give unwanted games to the Get-Well Gamers Foundation, which brings video games to children's hospitals.
Give those kids a chance to have some fun, and break the monotony of, you know, being seriously ill and essentially living in the hospital.
Get-Well Gamers accepts video games, game consoles and game peripherals (controllers, batteries and the like).
You can also donate to Operation Supply Drop, Gifts from Gamers and Gamechanger Charity.
They take retro games too, which means you can finally give that N64 that's been collecting dust a new home.
No matter what you do this Christmas season, make sure you take the time to help someone.
Don't let Christmas marketing overwhelm the Christmas spirit.
And honestly, you'd never wear that sweater (ever).
Give it to someone who would.