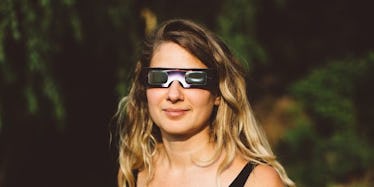 5 DIY Eclipse Glasses So You Can Safely Watch The Eclipse From Your Home
Bryan Rupp
The eclipse is upon us, and you've probably already noticed that everyone is scrambling around trying to find glasses to view the event. It is extremely important that your eyes are protected if you plan on viewing, because it could cause some serious damage. Of course, if you waited until the last minute, you're learning the hard way that these glasses aren't as accessible as advertised everywhere in the last couple of weeks. Be on the lookout for counterfeit glasses that are not approved by International Organization for Standardization (ISO) and the American Astronomical Society. If you're looking to figure it out on your own, you may need legit tutorials for DIY eclipse glasses.
Please be cautious, though. Just because you decide to take matters into your own hands, it's not a surefire path to accuracy. It is extremely important that you understand the responsibility you are carrying when attempting to make your own pair of eclipse glasses. This is your vision we are talking about, and if you're privy to cutting corners and innovating your own way of doing things, this is not the time to do what you're used to. Leave it to the experts for some safe ways to watch the eclipse by DIY-ing.
1. Listen To An Exploratorium Expert
This may not be the cool pair of glasses you were expecting, but a sun viewer still does the trick. The important part is that you're protecting your eyes. It's a celestial event, not a fashion competition.
2. Get Your Crafting Face Ready To Embrace The Eclipse
Who knew some regular household items could ease your solar eclipse glasses anxiety? It's crazy the things you discover when you're able to DIY. Trust your skills.
3. Who Knew Cereal Boxes Could Save The Day?
Major shoutout to cereal boxes for being convenient and interchangeable. Just when we thought there was such a thing as having too much cereal... leave it to an eclipse to prove us wrong. Put your DIY skills to work with this pinhole projector for today's solar eclipse.
4. For Real Though: I'll Never Look At Cereal The Same Way Again
Sadly, unlike cereal, we didn't have many options to pick from in regards to getting glasses for the eclipse. We won't need Tony the Tiger to remind us that our DIY glasses will be great. We know what we're capable of.
5. Get Those Shoe Boxes Ready
You had us at shoes. Yes, this is going to take some undivided attention and energy, but you literally just had to walk into your closet to get the main part. If that's not clutch, then I don't know what is. Protecting your eyes during the eclipse is the most important concept to grasp. DIY is always fun, but for this particular task, you're going to need to take it a little bit more serious than the others.