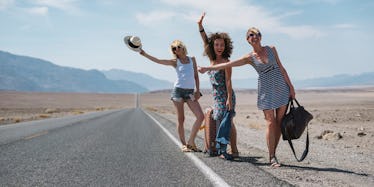 Ditch The Plan: It's About The Journey; Not The Destination
When it comes to life, so many people are sharply focused on the future. It's all about where you're going to end up and who you want to be. We're so focused on the big picture that we idly skip over the details. We end up missing out on some of life's most beautiful and important lessons.
In fact, by living too much for what is to come, you lose sight of how you got there. No one seems to focus on the most important part of all, the journey itself.
It's the journey that holds the true lessons and tests of character. It is where you are forced to take a good, hard look at yourself and figure out exactly whom you are.
Through travel, experience and hardship, you are slowly molded into the person you want to be. When it comes to your own journey, no amount of strategic planning is ever going to dictate where life ends up taking you.
When you accept the long, complicated, winding road that is life, you start to understand more about the world and your place in it. Stop trying to control everything and enjoy the moment. Put down the camera and enjoy the sights. Ditch the map because it's about the journey, not the destination.
It's not about knowing what the future holds; it's about living in the moment.
Not everything in life is about working towards the future. When you're making your way through this crazy existence, take the time to live in each and every moment. Enjoy the time you have and the experiences. Travel, learn, love and get inspired.
It's not about the pictures; it's about making memories.
Life is far too short to waste it documenting it with a camera. Taste the world and travel. When you're traveling, you should focus on all the fantastic places you get to see, the food you get to eat and people you get to meet. In the end, it won't matter how many photos you have as long as you have those memories in your heart.
It's not about where you are physically; it's about where you are spiritually.
It isn't about the place in which you are physically, but the state of mind. You can be anywhere in the world and be happy as long as you're at peace with yourself. When you traverse far away lands, it should be as much about finding yourself as discovering new places.
It's not about relying on maps; it's about getting to know your surroundings.
The best way to get to know a new place is by getting lost. Don't spend so much time worrying about how you're going to get to where you want to go, just enjoy the time it takes to get there. You learn so much more about where you are without the rigidity of trying to follow an itinerary or map. It's less about looking for trail markers and more about making your own path.
It's not about following a plan; it's about going with the flow.
Don't get too hung up on your perfect plan in life's adventures. Nothing is ever as it seems and nothing ever goes the way to expect it to. As soon as you accept that all things come to the right place in the end, the sooner you'll find happiness. It's about taking things as they come and going with the flow. It's about trusting yourself.
It's not about being comfortable; it's about stepping outside of your comfort zone.
Getting too comfortable is the kiss of death. Your comfort zone is literally killing you. Don't let yourself get trapped in a routine just because it's easy. Life is about the exploration of the unknown; it's about breaking barriers and trying new and exciting things. If you're not scared, you're not doing it right.
It's not about following a GPS; it's about following your heart.
Life isn't about directions, schedules and plans. It isn't about listening to others; taking advice or being the person your parents want you to be. It's about listening to what your heart tells you. It's about following your passions, taking risks and learning about yourself along the way. No matter where you go, if you're following your heart, you're headed in the right direction.
Compensation for this post was provided by Discover it® via Elite Daily. The opinions expressed herein are those of the author and are not indicative of the opinions or positions of Discover it® or Elite Daily.