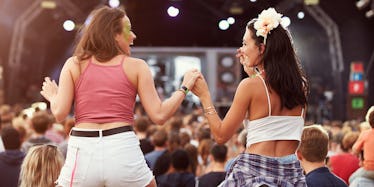 3 Reasons You Should Ditch The Music Festival Lifestyle In Your 20s
Shutterstock
This past summer, I set a personal record for music festival attendance: five. I'm not sure if it was FOMO or downright addiction that made me a slave to ticket stubs and wristbands, but for some reason, I just couldn't say no.
Everyone who has ever attended a music festival is likely familiar with this kind of obsession. Maybe you even suffer from it yourself.
For those of you who haven't made your way in quite yet, let me paint this picture for you. You have three days where you're immersed in sunshine, music, art and openness. Your bare feet shuffle through the grass and grit of your campsite as you pass a beer to a stranger clad in paisley.
To your left, one of your male friends is getting a massage from someone he met at Lotus last night. The person is rambling on about chakras and holistic healing. To your right, four ethereally beautiful girls are passing a joint, playfully arguing over who has spent the longest amount of time without showering. You gasp when you hear them talk about their 14-hour drive straight from Bonnaroo.
"Do these people even have real jobs and lives outside of this?" You quickly realize you don't even want to know because it's that very mystery that makes many of the people you've met so interesting. You dance under a laser-filled sky, wondering if it ever gets freer than this.
Do people ever get kinder than this? Does music ever sound better than this? You know your time here is fleeting, but the perspective you've gained and memories you've made will last forever.
It sounds surreal, doesn't it? It sounds like some impossible fantasy world, developed by writers to interrupt our corporate days. But, it's been a huge part of my life for the past two years, with particular regard to electronic dance music (EDM).
I've had some of my best times and met some of my best friends through festivals and shows. But my semi-retirement comes for good, personal reasons:
1. Repetitiveness
This may not ring true for many festival-goers, but it gets repetitive. While certain festivals hold their own pocketed identities, I've felt an unfortunate sameness among too many.
If you've been to Electric Zoo, you've been to Moonrise. If you've been to Moonrise, you've been to EDC. I felt a relieving sense of validation when this notion was accounted for in a recent NY Times article. Again, this is my personal perception, and I don't expect many people lost in the PLUR to agree with me.
2. Lack Of Substance (And I Don't Mean The Illegal Kind)
Festivals are a prime platform to achieve deep human connection, hear incredible music from both seasoned vets and emerging stars, view prolific art, dabble in delicious food truck meals and much more. So, how can I say they lack substance, might you ask?
I'm 24 years old, and my travel interests have shifted. I want to learn different cultures and languages. I want to explore nature outside of the confines of a campground. I want to sightsee through sober eyes.
Festivals by no means lack all substance; they just lack the substance I now seek at my age. My desire to be fluent in Spanish and navigate foreign public transportation far exceeds my desire to see Bassnectar for the 40th time in my life.
3. Money
Aside from your local "mom and pop" festivals, these events are expensive. They're often put on by large-scale event companies, so it's safe to say many are now commercialized to the max.
Despite the heavy price tag, the bang for your buck is, indeed, priceless. Let's use Mysteryland 2016 as an example. The early bird GA camping and festival pass was $294 before taxes and fees. The "Ready Robin" – aka the later-purchased version of that – is currently available for $319 before taxes and fees. Tack on food, water, alcohol, substances – one must be realistic while talking about festivals – gas, expenses to travel there and outfits (if you're about that life), and you can easily drop $1,000.
Your drug-heavy homies can — and will — reach that grand faster than you can say "ketamollicaine." Last year, I spent around $400 for the ticket and camping at Firefly. This year, I got a round-trip plane ticket to Costa Rica for $370. The choice is yours.
I sincerely hope the aforementioned does not come across as a diss to my beloved festival homies. These events are truly life-changing, and I would recommend them 10 times out of 10.
I credit these festivals for my transformation into an open-minded, compassionate human being. I'm just at a place in my life where they no longer induce such a spectacular amount of personal growth. Thus, I am forced to seek it through other forms of travel and exploration.
I call this a semi-retirement because I have a one-per-summer limit for festival attendance. (Shoutout to Camp Bisco and the Disco Biscuits for arranging such a dynamic experience.) But every addict knows that relapse is a potential bump on the road to recovery, so I won't make any promises.