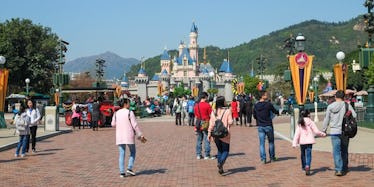 How Disneyland Gave Me A Sense Of Home When I Moved To A New City
Shutterstock
I recently moved to Los Angeles from New York. It was a move I planned on doing for a long time. I wanted to stay in the entertainment industry, but New York just wasn't for me. I wanted sunshine, space and Disneyland. I'm a Disney person.
I grew up an hour away from Walt Disney World in Florida, so my family would go all the time. It was like a second home. Some people say the magic gets lost the more times you go, but for me, the Disney Parks never lose their sparkle. Going to the Magic Kingdom was something I truly missed when I moved to New York for college, and I couldn't wait to get back.
So, of course, one of the first things I did when I moved to LA was get an annual pass to Disneyland. I went enough times that I made my pass worth it just in that first month of me being here. I was in a new place away from my family and friends, and Disneyland was something familiar. I could go into the parks, grab a snack, sit on a bench and people watch. I could also go on a ride and enjoy the thrills.
However, when I would go on rides, I would encounter problems. I was met with sad looks when cast members would ask, "How many in your party?" and I would say, "Just one." It was as if I was depressing that person because I was an adult alone at Disneyland. How crazy is that?
Let me tell you: It's not that crazy. I know it sounds weird, but I was in a new city alone and just wanted to be around something I knew. That just happened to be a theme park. But, Disneyland isn't just for kids or for families. It's for everyone, even adults who are by themselves.
One night, I realized I didn't have any comedy shows to do, and so I decided I could make the trip over to Disneyland after work because it was open late. I didn't have the time to see if anyone was free because it was a spur of the moment, last-minute thing. I really wanted to ride Hyperspace Mountain, and it was a pretty short wait time because it was a weeknight.
I jumped in line, and the couple behind me was on their first date. He mentioned he loved hot yoga, and she said she'd never tried it. Then he said they should go to a class together, and she agreed. There would be a second date.
I was over-the-moon excited I got to experience this heart-warming conversation. I would have missed out on it had I not been there alone. We ended up getting split up when we were put in our rocket ships, but I loved our time together.
Now that I've been in LA for some time, I've found some friends to go to Disneyland with. But on occasion, I'll still go alone. Here are five perks to going to Disneyland alone:
1. You get to ride the rides you want to ride.
2. You can go in the single-rider line, which is shorter, and you don't have to worry about being split up from your party.
3. You don't have to stop because someone else is hungry or has to go to the bathroom. This is your schedule.
4. You can go at your own pace. You can go just to relax and enjoy the park, or you can be the speed demon you are and hit up everything you love. You never have to deal with people dragging you down or racing you around.
5. My favorite perk is you can eavesdrop on the funny conversations people are having in the line behind or in front of you.
I know it may be weird, but sometimes I love going to Disneyland alone. You need to spend some time alone every once in a while, and I believe there's no better place to do it than The Happiest Place On Earth.