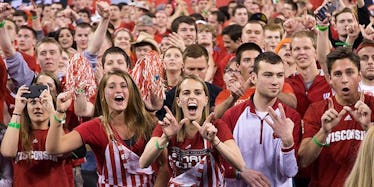 5 Things, 4 Places And 3 People That Make Wisconsin So Charming
Cheese, beer and the Green Bay Packers: Ah, the great Wisconsin mantra.
To be honest, while my heart completely adores (and is probably a little too obsessed with) those three things, Wisconsin is perfect for so many more reasons.
Ask Wisconsinites why they love their home state, and they're likely to spill a list so long, your ears will start to hurt.
Actually, you're probably better off not asking; Wisconsin people love to talk.
As home to one of the greatest sports franchises in history, the land of 15,000 lakes (I'm looking at you, Minnesota) and the true heart of the Midwest, I am more than proud to call Wisconsin my home state. Here's why:
Things
Cheese Curds
They can be deep-fried, beer-battered, stacked eight deep in a real Bloody Mary — you name it.
Wisconsin cheese curds are so good there are entire websites dedicated to the tasty delicacy.
For any Wisconsinite who's ventured to live anywhere else, the struggle is real.
It's likely you've been begged by your non-Wisconsin friends, who've at one point or another had the honor of eating a curd, to bring them back the oh-so-delicious treat.
While you'll do them the honor of picking up a few bags of curds on your way to the airport, you know it's not the same.
Fresh as they still might be, curds eaten outside of Wisconsin just don't taste the same.
But don't worry, friends, we'll still do you the honor of fulfilling your big curd wishes (but not without warning you curds are best enjoyed in Wisconsin).
Up North
We may not have miles of sandy white beach, but spend two days in a cabin up north in Wisconsin, and you'll never look back.
Summers in this great state are spent on a lake, in the company of good friends and with an endless supply of beer.
With just a little more than three months to enjoy the sunshine, you best believe Wisconsinites will take advantage of every minute of it.
Not only do we love to spend our days soaking up the sun, but we'll show you the time of your life while doing it.
So, kick back, relax, grab a beer and take a moment to enjoy watching the sun go down over a peaceful Wisconsin lake.
Music Festivals
Wisconsin is home to some of the best music festivals in the country. Each year, Milwaukee hosts the largest music festival in the world, known as Summerfest, with more than 800 acts across 11 days.
But the fun doesn't stop there. Country USA is one of the biggest country music festivals in the nation.
Visitors from all over the country travel to spend five days in the middle of a renovated cornfield, camping, drinking and singing Eric Church into the moonlight. Trust me, it's the greatest.
Rock Fest, Country Jam and Life Fest are just a few other top-notch Wisconsin parties you'd be crazy to miss.
Bars
When your state has more bars per capita than churches and schools combined, you're going to want to talk about it.
Every Wisconsin town with a population of anything has a bar (or five). We love to drink more than we love to put cheese on top of everything, and that's saying a lot.
Stop in for a drink at your local tavern, and the bartender is sure to call you by your name and have your drink ready before you even sit down.
Simple conversations over a few brews at the end of an honest day's work make life worth living after all.
The Green Bay Packers
Thought I forgot, didn't you? Quite frankly, this should have been first on the list, but I didn't want to ruin all the fun.
In Wisconsin, the Packers are not a part of life; they are life. Everyone from your neighbor's dog to your best friend's grandma is dressed in green and gold on Sunday.
But, all of that Packer pride isn't unmerited. As the first official team of the NFL, the winners of the first-ever NFL championship game (and second, but who's counting?) and the only team owned by the public, Packer fans have more than enough reasons to be proud cheese heads.
While the football Gods have been fairly good to Green Bay in recent years, being a Wisconsin fan means never losing faith in our team.
We may have our hearts crushed in strange, inexplicable fourth-quarter conference championship losses, but we'll still be there tailgating, grilling brats and playing beer pong eight hours before kick off at the first game next season.
Fun fact: The waiting list for Green Bay Packers season tickets is more than 30 years long.
Places.
Madison.
With an exceptional artistic style, a great nightlife and a superior university, it's a wonder why the whole world doesn't model itself after Madison, Wisconsin.
The state's capital not only boasts about being home to a Big Ten University (with a mighty fine athletics department, I might add), but there is plenty to write home about, even for the non-sports fan.
Just about anyone with a soul can find something to love about Madison.
Take some time to explore the variety of street fairs, museums, parks and theaters, and you'll be charmed out of your mind. Madison is the perfect blend of a big city with a small-town feel.
Door County.
Didn't know Wisconsin had wineries? You learn something new every day.
Not only is it one of the top tourist destinations in Wisconsin, but one of the country's true hidden treasures, Door County, is the perfect place for a weekend getaway.
Put your right hand out in front of you with your fingers together and your thumb out just a little bit: That's Wisconsin.
And that part from the crease on your thumb to your nail? That's Door County.
From kayaking to breweries and vineyard tours, anyone who visits Door County will have more than enough activities to fill an itinerary.
There aren't enough words in the dictionary to describe how beautiful Door County is. You'll feel like you're right at home.
Wisconsin Dells
This is every Wisconsin child's dream. When your parents finally said the magic words, your life as you knew it would move in slow motion until the moment you were handing your ticket to the lady at the gate with the ticket scanner.
Wisconsin Dells is the single most wonderful water park to ever exist in the history of water parks.
Wisconsin Dells is Disney Land's younger sister. But, don't be fooled; younger does not mean less fun.
In fact, without the pressure of having to hit six theme parks in four days, parents enjoy Wisconsin Dells almost as much as their kids.
Some of my greatest childhood memories are running through pee-filled wave pools and destroying my elbows riding yoga mats down uneven plastic water slides.
Ah, the good ole' days.
Small Towns
I tried to pick just one, but there are far too many charming Wisconsin towns. A farming state to the core, Wisconsin small towns are the definition of perfect simplicity.
I dare you to take a drive through the backcountry roads in Wisconsin in the fall and not feel like you've stepped straight into a Robert Frost poem.
On any given Friday in Wisconsin, you'll find a good portion of the town at the local bar enjoying a Friday night fish fry.
And, on the occasion the weather happens to dip below 20 degrees and be just a little too cold, well, you'll still find half the town at the fish fry.
Ice or no ice, we don't miss a good time for anything.
People
Chris Farley
We may not have Hollywood, but Wisconsin folk will always remind you that one of the greatest comedians of our time hails from the Badger State.
Tommy Boy himself was born and raised in Madison, Wisconsin and was a proud Wisconsin football fan.
Like the rest of the world, Wisconsinites were devastated by his sudden death and will still take advantage of any opportunity to whip out a "Tommy Boy" quote or two.
Harry Houdini
Illusionist, magician, stunt performer and pilot: This guy's got quite the resume.
The Hungarian-born entertainer spent a good part of his young life in Appleton, Wisconsin, where to this day, there is a museum dedicated in his honor.
As a world-renowned magician, Harry Houdini is most famous for his handcuff and straightjacket escape acts. His death, much like his magic, is still a mystery.
It's unknown if Harry Houdini died from acute appendicitis or from peritonitis after being punched in the stomach while attempting to test his strength.
Aaron Rodgers
Okay, he might not exactly be from Wisconsin, but he won a Super Bowl for us, so that's more than enough for me.
And guess what? Wisconsin's number one celebrity was seen cheering on the Wisconsin Badgers Basketball team in the NCAA tournament this year.
The honorary Wisconsinite will always hold a special place in our hearts, even if he refuses to wear red in the stands. We'll forgive it.
Just keep taking us to the playoffs and all will be well.
The list of things to love about Wisconsin could go on and on. I'll always adore my home state and will forever wear my green and gold with pride.
Wisconsin is more than what you see on the surface. It's a place deeply embedded with charm, love and the finest selection of beer you've ever seen.