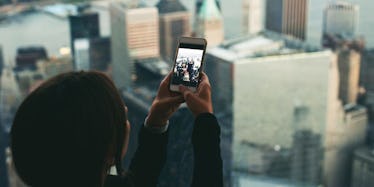 The Vacation Behind The Instagram: What My Post Failed To Mention
I stand on the edge of a rocky cliff, on an island off the east coast of Bali, wearing nothing but a bikini.
The intense rays of the sun push warmth onto my face, the azure waves crash in and around the jagged coves below, and I close my eyes to the bliss of it all.
Snap.
My picture is taken by my friend, Kathleen, who has been meditating beside me, savoring the moment just as I had been.
Hours later, back at our homestay, the picture is cropped, filtered and uploaded to Instagram.
#nusaceningan #bali #paradise
This is image the world sees.
Like, like, like.
"You're living the life, Darcie!"
"Jealous!"
"Looks incredible!"
As I read the comments, I smile not only because of the truth in their statements, but also because they have no idea what it took to get to that piece of paradise in the Indian Ocean.
They don't know the truth behind living the travel dream.
Rewind a week.
Kathleen and I had started our week-long trip in Ubud, a town known as the cultural hub of Bali, where yogis from around the world come to practice.
We each packed a tiny bag with only the barest of necessities (bikinis, shades, etc.) and cruised on Kathleen's scooter over to Seminyak, an upscale part of the island that boasts fancy shops, elite restaurants and expensive beach clubs.
Despite the fact we hadn't booked a place to stay ahead of time, we headed straight for Potato Head Beach Club.
You don't have to be a guest to use the massive infinity pool that overlooks the gleaming Indian Ocean, so we sauntered in and jumped straight into the pool.
Later, after we'd basked in the glorious sunshine and imbibed one of the delicious, overpriced cocktails, we made friends with a group of Aussies who were in Bali for a wedding.
We spent hours talking with them and completely forgot we needed to find a place to stay that night, a reality that grew even more urgent as the hours flew by.
Evening came, and Kathleen had moved on to group of Europeans, so we parted ways for dinner. We planned to meet up later at La Favela for drinks and dancing.
As planned, I texted her a few hours later to find out where she was. She hadn't yet gone to the bar, and she was at the guys' villa. She told me to get over there ASAP, but she stressed I should come alone.
I told the Aussies I needed to leave, and I asked one of the guys, David, to drive me to this villa. It was nearing midnight as we hopped onto his scooter and headed out.
When Google maps led us astray, we asked for directions, but no one seemed to be able to lead us to Kathleen's location.
Parked on the side of the road, David and I discussed finding a place with WiFi, so I could tell Kathleen I'd just meet her at La Favela.
Then, everything changed.
Two guys on another scooter zoomed up to us, slowed down marginally, grabbed my cell phone out of my hand and sped off.
It all happened so fast. I was stunned.
David threw me off the bike and sped off after them, only to come back minutes later empty-handed. I applauded his efforts, but I wasn't surprised the thieves were long gone.
Even as I tried to remain calm, I was freaking out.
How would I get to Kathleen without my phone? Especially when, as luck would have it, David couldn't find his and wondered if he'd left it at the beach club.
Morning came after a fitful night's sleep. David located his phone, and I used it to message Kathleen on Facebook.
An hour ticked by (which felt an eternity) while I waited for her reply, growing increasingly more concerned.
She had the scooter. I had no phone.
Eventually, David's phone beeped with a reply.
"Omg! Are you okay? I was up all night. I was so worried! Sorry I didn't get your message sooner. I was doing yoga at sunrise and then took a swim in the pool. The guys' villa is insane!"
Fantastic.
We met up an hour later, and I hugged her with all of my strength.
Waving goodbye to David, I jumped onto the back of her scooter, and we cruised on to our next destination, determined to go on with our trip as planned.
Fast-forward a few days, and we were in Uluwatu, a beach town at the very tip of Bali known for its world-class surf.
I had gone home early from the bar, exhausted from the previous days of sun and cocktails. Kathleen decided to stay out.
She ended up running into someone she knew and, against her better judgment, swam in the ocean, leaving her belongings on the beach.
The next morning, Kathleen returned, and we were down two cell phones.
Undeterred in our adventures, we headed over to the east coast and parked the scooter at the beach in Sanur.
With sweat stippling our foreheads from the overwhelming heat and humidity, we rushed down the sidewalk that ran parallel the ocean, hoping to find the boat company we'd booked for our 10:30 am boat ride to Nusa Lembongan, our ultimate destination.
10:30 am came and went without any luck.
Locals rushed toward us, asking where we were going and if we needed a boat somewhere. It was then we remembered we hadn't prepaid, and we decided to forgo the original boat in favor of one of the companies right in front of us.
Our already sky-high stress was compounded by the fact we now had to negotiate a price for the boat ride.
As seasoned travelers, Kathleen and I knew negotiation was imperative if we didn't want to get utterly ripped off.
Ultimately, after many rounds of back and forth, we found a cheap price for a great yacht.
"Bliss at last," I thought, as we soared atop the glistening blue water, with Mount Agung shrinking in the distance.
Lifting up our shirts to tan our stomachs, we lolled on the top deck of the boat. As weary as my body felt from the past several days, I was in heaven.
But it turned out to be more like hell when we arrived 30 minutes later at Nusa Lembongan, and we were forced to play the waiting game for transportation.
Without telling us what the holdup was, we, along with about 10 others, were left with no information as to when we'd be taken to our hotels.
Oh, wait. Kathleen and I didn't have a hotel again.
After nearly 30 minutes had expired, Kathleen grew agitated and took control of the situation by forcing us onto the first pick-up truck that came.
She beckoned me over and authoritatively instructed the driver to take us to the center of the island. We were dropped off at what seemed like a random spot on the side of the dirt road.
At this point, we were led through an alley to the waterfront, where we were introduced to someone from whom we could supposedly rent a scooter.
Again, we would have to negotiate for the price, and I longed for someone to handle this for us.
It was tiresome to have to be at the top of my game all the time, constantly putting forth the effort not to get ripped off.
After much back and forth, posturing and threats, we rented a badass scooter, and the license plate read "Jage."
Slinging our bags onto the bike, we mounted Jage and set off in search of a hotel.
We crashed over the rocky, pothole-ridden road and were thrilled to find a great hotel called Tigerlillys. With splashes of bright color, a gorgeous pool and an onsite restaurant, Kathleen was sold.
I was as well, until I heard the price.
There was no way we were paying that much. Kathleen pouted, but I held steadfast, insisting we check out other places.
We went directly across the street and found a homestay that had no pool and a dearth of charm, but it was about an eighth of the price of Tigerlillys.
After reminding Kathleen of our budget, we took the homestay and ended up getting invited by the wonderful manager of Tigerlillys, a Brit named Caroline, to use the pool there any time we wanted.
Once we'd settled into our minimalistic but adequate room, we mounted Jage to explore, carefully navigating across an ultra-narrow suspension bridge to Nusa Ceningan.
We were in full off-roading mode there, and we prayed Jage would be able to withstand the rugged terrain. Badass that she was, Jade toughed it out, and we made it to the turn-off for the cliff we'd been seeking.
But, we were given bad news. The tide was too high, and we couldn't jump into the water.
After everything we'd been through the past five days, it was disheartening to be denied the ultimate prize.
"Is this our life?" our shared look said.
Still, we rode Jage to the edge of the cliff, at which point we closed our eyes and retreated inward.
As if by magic, everything that had happened up until that point flowed away, like a piece of debris in an outbound tide:
My phone being stolen.
Not knowing where Kathleen was.
Kathleen's phone being stolen.
Running late for our boat to Nusa.
Unable to find the boat company.
Negotiating for a different boat.
Waiting for transportation.
Negotiating for a scooter.
Locating a hotel.
Being directionless in a foreign island.
Scootering over a narrow suspension bridge.
Off-roading on a rock-ridden path.
A high-tide-induced moratorium on cliff jumping.
All of these things were forgotten.
Snap.
It was all worth it.
Without the cameras on our phones, we resorted to taking this picture with the webcam on Kathleen's laptop.
Though it's grainy and inverted, I love it for everything it represents.