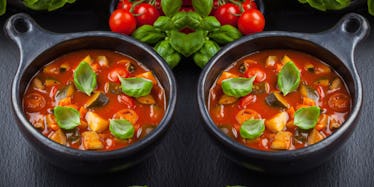 Fire Up This Hearty And Spicy Veggie Beer Sauté For Vegetarian Month
Shutterstock
For the past three weeks, I've attempted to be a vegetarian.
I've been researching and considering this switch for years, mainly in an attempt to figure out my body's biology.
However, one major factor has gotten in my way: my love of cooking.
Giving up the dynamic properties of meat and all it contributes to a dish brings pain to my culinary soul.
But, there's hope.
Not only have I been forced to be more creative with my recipes, but I also now give greater attention to the proteins and other minerals I lost due to this dietary shift.
On the other hand, I have to keep things exciting. My following food adventure utilizes end-of-summer veggies, and a big ol' bottle of beer.
The best thing about this type of dish is many other fall vegetables, such as sweet potatoes, beets and even pumpkin, can easily make an appearance depending on your tastes.
Hearty And Spicy Veggie Beer Sauté
 Servings: 4
Prep/Cook Time: Less than 30 minutes
Ingredients:
Corn from 2 fresh ears, kernels cut off before cooking
3 to 4 plum tomatoes, diced
Hefty handful of green beans, chopped
4 stalks of celery, halved and chopped
1 zucchini, chopped
1 clove of garlic, diced
1/8 can of lager (I used Yuengling)
1 can of red kidney beans
Sriracha to taste
1 tablespoon honey
2 tablespoons olive oil
Salt, pepper and a dash of chili powder
1 cup (uncooked) rice of choice
1 egg
Start by sautéing the garlic in olive oil.
While you're doing this, chop the tomatoes, occasionally checking the garlic bits to make sure they aren't turning too brown.  Garlic goes from delicious, aromatic pieces of delight to evil, burned bits of coal in seconds, so keep your eyes peeled.
Add the tomatoes, and toss them around. Grab a bowl, and stand each husked corn cob to slice kernels off the ear. Add the corn to the pan.
Chop the ends off the green beans, and cut into small pieces. Slice the celery in half, and chop to similar size pieces as the beans. Throw them in the pan. Do the same thing with the zucchini.
Add about a tablespoon of Sriracha (depending how spicy you like it), along with the honey, salt, pepper and chili powder.
Toss around, and allow the mixture to cook uncovered for about five minutes. After this, add the beans.
Here's when the magic happens.
Add about a two count of beer, and watch it do that delicious foamy pan-beer thing.
Stir gently, and cover. Simmer on low for about 10 minutes. (Drink the rest of the beer.)
Now is a good time to get your rice going. It takes almost exactly 15 minutes, a little more time than you need for the deliciousness to simmer.
When you return, check out your veggies to taste how they're doing.
Once the mixture is the consistency and spiciness you like, pour it into a nearby bowl.
Keep the heat on low so your pan will continue to heat. Since it's covered in leftover amazingness, fry the egg on it.
Grab a small dish of any interesting shape, even if it's shot glass.  This is kind of like making a small sandcastle, but with rice. Scoop the rice into the container, and flip over onto the plate.
Scoop the veggie-corn-beer mixture onto the rice castle, and don't worry if it collapses a bit. It's still pretty.
Last but not least, grab your Sriracha, and drizzle it over the top of the egg, making it look beautiful and delicious.
Serve, enjoy and revel in how full you feel afterward, without adding an ounce of meat.