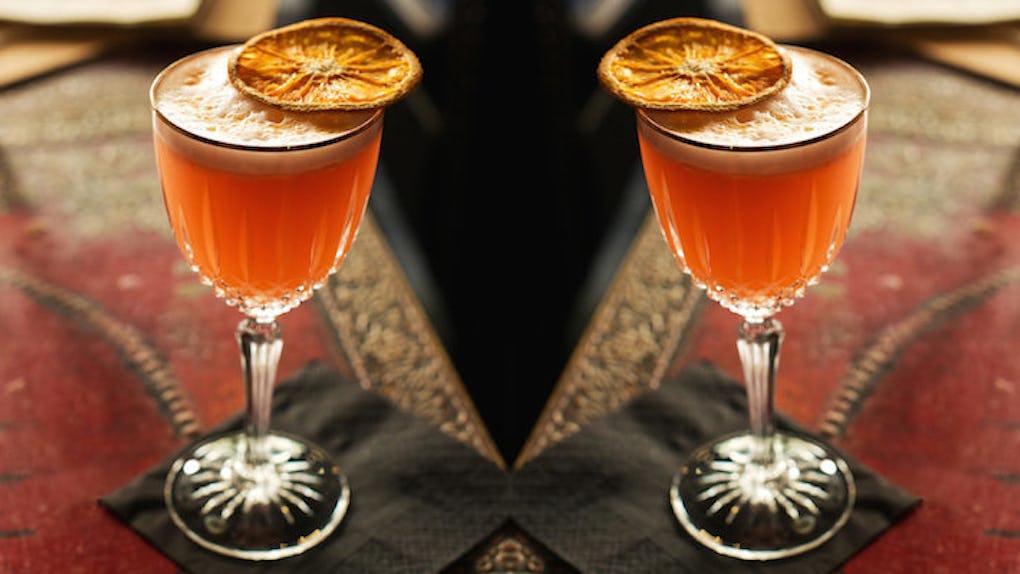 Helen Yin
5 Cocktail Recipes You'll Need To Survive Turkey Day With The Family
Thanksgiving is a time to reminisce and give thanks.
We are thankful for our loved ones, for our health, for shelter and for the delicious food we are about to eat.
But with all the emphasis on what we're eating, we forget hard liquor is typically required to survive a two- to four-hour meal with relatives, both immediate and distant.
So while we are giving thanks for the many wonderful things in our lives, let us take a moment to be thankful for the cocktail in front of us. (#Amen.)
Sure, nothing beats your mom's buttery turkey, your great aunt's stuffed mushrooms or even grandma's famous stuffing, but if you're going to endure a day of questions like, "How are classes?" "What's going on with the job search?" "Got a plan for after graduation?" or my personal favorite, "Have you found a nice Jewish boy?" you're going to need some liquid courage.
There's no way to avoid these questions.
However, it is possible to answer them with a smile, thanks to a little extra kick in your beverage of choice.
The following cocktails don't just taste good, but they look good, too.
In fact, they're decorated with so much color and garnish, you'll be able to distract your relatives from their alcoholic content.
So grab a pen and paper because not only do you need a good cocktail for Turkey Day, but you won't want to miss out on some recipes that will make every other Thanksgiving dinner green with envy.
Ingredients:
4 1/4 cups bourbon 2 figs, seeded and sliced 2 pears, seeded and sliced 1 vanilla bean, seeds scraped 1 ounce bitter orange digestif, such as Campari 1 ounce sweet vermouth 1 slice orange, for garnish
Directions:
For the infused bourbon, combine the bourbon, figs, pears and vanilla bean seeds and pod in an airtight container.
Let it infuse in the refrigerator for at least two weeks, but no more than three weeks. Strain.
Combine 2 ounces of the infused bourbon, the digestif and sweet vermouth in a mixing glass.
Stir for 90 seconds, and then strain into a chilled martini glass. Garnish with a slice of orange.
Ingredients:
1/2 ounces Stoli Vanilla (optional to give it kick) 1 ounce Pumpkin Spice liqueur, such as Hiram Walker 1/2 ounce Kahlúa 1/2 ounce Butterscotch Schnapps 1/2 ounce half-and-half Crushed graham crackers Cinnamon stick, for garnish
Directions:
Add all liquids in a shaker filled with ice.
Shake and strain into large martini glass rimmed with crushed graham crackers.
Garnish with a cinnamon stick.
3. English Harvest (via Food & Wine)
Ingredients:
Ice 1 ounce London dry gin 3/4 ounce bonded apple brandy 3/4 ounce dry vermouth 3/4 ounce unfiltered apple juice 1/4 ounce orgeat (almond-flavored syrup) 3 dashes of Angostura bitters 1 spiral-cut orange twist, for garnish
Directions:
Fill a cocktail shaker with ice. Add all of the remaining ingredients except the garnish, and shake well.
Strain into a small chilled coupe or snifter, and garnish with the orange twist.
4. Hard Cider Sangria (via Food & Wine)
Ingredients:
1 cup quartered and thinly sliced unpeeled green, yellow and red apples 1 navel orange, quartered and thinly sliced crosswise 1 cup apple juice, chilled 2 tablespoons fresh lemon juice 1/4 cup apple brandy 1 22-ounce bottle hard apple cider, chilled Ice
Directions:
In a pitcher, combine the apples with the orange, apple juice, lemon juice and brandy.
Just before serving, add the hard cider. Serve in tall glasses over ice.
5. Ginger's Long Island (via Food & Wine)
Ingredients:
Pinch of cinnamon 1 1/4 ounces ginger liqueur 2 cardamom pods 1 apple wedge, cut into thin slices and fanned, for garnish 1 1/4 ounces mezcal 1/2 ounce fresh lime juice 1/2 ounce apple juice 1/4 ounce Agave nectar Ice
Directions:
In a cocktail shaker, lightly crush the cardamom. Add ice and all of the remaining ingredients except the garnish, and shake well.
Pour through a fine strainer into an ice-filled double rocks glass. Garnish with the apple fan.
For more fun recipes, check out Food & Wine and The Food Network.
So get pouring, get stirring and get crunk with these Turkey Day cocktails, and remember to give thanks to Grey Goose, Stoli, Belvedere and Veuve Clicquot on Thanksgiving 2015.