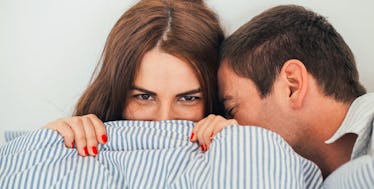 What Training For My First Half-Marathon Taught Me About Life
Stocksy
Running is hard AF.
All these "runners" will start by talking about a runner's high, increased endurance and getting to the finish line, but I'm a New Yorker who runs (among other things), so I'm going to tell it like it is.
Three years ago this month, I took a yoga teacher training course for hot yoga. I loved every second of it.
It pushed me to do things I never imagined (although, I still can't do a headstand), and made me think about how I handle things in life.
I find that most problems can be worked out in a hot yoga room on a mat, in a SoulCycle studio on a bike or, now, on a run.
After my good friend ran the Chicago Marathon, I took her with me to one of my SoulCycle classes.
We tapped it back and pedaled to the top of the hill and then we did what all 20-somethings do on sunny Saturdays in October: We went to brunch.
As we walked to brunch, I asked her what motivated her runs and how she stayed positive for three hours running 26.2 miles. And she said it just works.
As someone who was a "fat kid," I was hesitant. I said, "But I'm not a runner…" And she said, "But you could be."
That sparked something in my brain, and that's how we got to where I am: an official "half marathoner."
Here's what I learned from my experience:
There's Always A Moment Of Bliss In The Struggle
The struggle is real.
How many times I have you said that? When I started training at Mile High Run Club at Astor Place in NYC (highly recommended, it's totally worth doing if you're prepping for a race or just want to learn how to be a better runner), I couldn't stop thinking about how different it was from SoulCycle.
I'd been doing SoulCycle two to four times a week since September 2014, and as I started my running training, when "the struggle got real," I tried to do what I always do: close my eyes. Well, if you've ever run on a treadmill, you'll know that that was a big mistake.
How would I cope if I couldn't go inside myself and find that lion, that warrior, that… thing, that always gets me through?
I'd have to find a new way to bring her out. So, I started a mantra and BOOM! There was a moment of bliss.
This applies in every area of life. When you "literally can't even," take a moment, breathe, say your peaceful phrase and move forward.
You'll be better off, I promise.
Life Is Supposed To Be Hard
Shocker, life is hard. The true shocker? It's supposed to be. I got the flu the weekend I was supposed to do my "big run" (there's one long run the weekend before you run), and I didn't know if that would hurt me.
I needed the rest, and as it turns out, it was hard to run the end of the race, but I cut two minutes off my miles.
I learned a lot about training and what "hard" means on those hills in Central Park, but the most important lesson? You're capable of anything you fight for.
You Deserve One Hour Of Your Day
Work. Family. Friends. To-do lists.
We have all these obligations pulling us in different directions and even if they're things like a night out with friends, they are still something to do with other people.
There are 24 hours of each day; you sleep about eight, work about 10 and that leaves you with six hours for yourself.
You may commute or maybe you have to take care of a pet. Either way, you still have at least one hour to do something for you (probably two if you really budget).
Don't feel guilty about doing something for yourself. Everyone "recharges" in different ways and I've learned that exercise and alone time is really what gets me back to normal.
Training took up a lot of my time. I didn't go out as much because I was consistently getting up early to run and that made me reevaluate the things I do outside of sleep and work and how I do them.
I started using a meal delivery service for lunch; it's slightly more expensive than the chopped salad on the corner, but it's healthier and I can get it delivered to work. Time, saved.
I sent my laundry out with Cleanly, used Handy to get my apartment cleaned and had my groceries delivered with InstaCart.
Take the hours you have for you and maximize them. And then, don't feel guilty about it.
You Can Survive Anything For One Minute
The best part of training with a class or team is that they count you down. When I first started running, I often felt like the minutes could stretch on forever.
Then, when the countdowns started, I realized that a minute was really only 60 seconds, which, in the grand scheme of things, is no time at all.
"You can survive anything for one minute," is something I repeated quite a bit during my half-marathon training and it made me realize that even if you're having a bad day, you have the power to turn it from being 24 hours of bad to just 60 seconds.
Gratitude Is The Best Attitude
It was a beautiful, sunny day in Central Park, and as I watched these incredible beauties in #beastmode run beside me, I realized we're all so much more powerful than we could ever imagine.
I am grateful my body let me run 13.1 miles, that I was able to train and fight for the goals I wanted to accomplish.
I hope that I'll always be as motivated as those badass ladies in their 70s who ran.
When life gets hard, think about all the good in your life and breathe. The bad will pass; you might as well have something to look forward to on the other side.