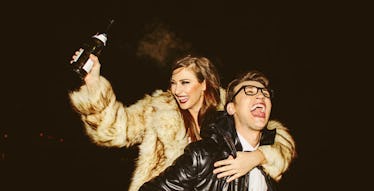 The Fine Art Of Moving: 5 Ways To Ease The Burden Of Stress While Uprooting Your Life
Stocksy
Making the decision to move from one tiny, cramped NYC apartment to another is a refreshing, exhilarating and anxiety-laden process.
Maybe you're ready to move in with your significant other -- a loving (yet absolutely terrifying) decision you've made together. Perhaps your cramped studio apartment in Bed Stuy just isn't cutting it anymore. Regardless of the reason, you know it's time to move. Cue the dread.
The hobo crashing on your front step couldn't care less if you move out, but this experience can be incredibly emotional and draining for you.
Ladies, if you're feeling particularly up for a challenge, try moving while menstruating; it'll be waterworks and bouts of frustration for days!
Getting a fresh start in a new apartment sometimes feels a bit messier than we'd like it to.
Why doesn't my new bedroom look like a perfectly white-washed Pinterest photo? Does my refrigerator work? Who do I have to call to get the heat turned down?
Between packing and coordinating all the minute details (like movers and delivery time windows), you're going to feel exhausted.
Let the adrenaline of creating a new home push you forward. Even if you're moving due to some unfortunate circumstance (like a breakup, or an increase in rent), there are ways to stay motivated and focused in a positive way.
Moving is a fine art, not unlike a chaotic and beautiful Jackson Pollock painting. Here are five crucial pieces of advice:
Warn your wallet.
Before committing to uprooting your life, there are a lot of things to evaluate. Your friends, career and family are usually all factors you need to consider, but be sure to keep your finances in check, as well.
Buying is for the big dogs, so evaluate whether or not you'd like to rent or buy a place. The NYC market moves quickly, and often places are gone within hours of your initial viewing or open house.
It's a competitive, decisive process, so you need to mentally and financially prepare. Expect to shell out money in incredible increments; the broker's fee, first month's rent, security deposit, movers, new home goods, rental moving equipment and other miscellaneous items will overwhelm your checkbook.
Make sure you have a stable source of income or a substantial amount of savings as a cushion.
Timing is key.
Committing to apartment hunting is a time-consuming ordeal. You'll have to block off chunks of time to research neighborhoods and listings; not to mention you'll spend numerous lunch breaks running off to view a place before it's gone.
If you're one month into a new job, moving probably isn't the best option. Put in four to six months, give your boss a chance to evaluate your performance and then decide to move.
In other words, make sure your work situation is stable before uprooting your life. The time you spend preparing yourself to move is arguably more important than the actual act of moving.
If you find that moving is dire, do what you need to do to get out of an unpleasant situation. At the end of the day, if you're miserable in your current environment, it's up to you to make that change before the negativity permeates every aspect of your life.
Seek advice from those who have your best interest in mind, and they'll support you. After all, no one looks forward to spending each night in a place that feels anything less than home.
Lastly, if you do find the place of your dreams and want to beat out the competition, don't be lazy. It's up to you to get your paperwork back to the broker in a timely fashion. Immediately after seeing the place, you should act quickly and keep your documents organized.
This will only help your case, and it'll show that you're a viable, responsible tenant.
Don't settle.
Just like (we hope) you wouldn't settle for a crummy relationship, don't settle for an apartment that doesn't meet your needs.
When a broker shows you a place, he or she will be sure to accent all of its positive traits, so don't be afraid to ask honest questions.
Addressing your concerns upfront will save you a lot of time, effort and money later on. Consider the little things: Check that the oven and refrigerator run properly and that the water pressure is strong.
Most importantly, don't settle for an apartment that has a lazy management staff. When it's the middle of July and your air conditioner stops running or your refrigerator breaks down, you need a landlord that will get there the same day to help you. Don't let the anxiousness you're feeling push you into living somewhere that doesn't feel like it could be home.
Also make sure the neighborhood offers what you need: adequate entertainment, convenient laundry services, dining spots, trendy bars and access to public transportation.
Think about your commute and daily tasks. Will this place accent your lifestyle or just make things more difficult?
Ask for help.
Your friends and family are excellent resources to utilize during your moving process. Not only are they great unpaid therapists for listening to your troubles, but also, they're cheap labor.
Bribe your friends with some pizza and wine and get packing! Who knows what you'll find tucked away in your junk drawer, so emphasize the importance of de-cluttering your former nest.
The less stuff you have to move, the happier your helpers will be.
Enjoy the fruits of your labor.
Perhaps your new space has an unbelievably large patio area, and you can't wait to throw a relaxing summer barbeque with your friends. Get planning! This is the fun part, after all.
Show off your savvy decorating skills, your fine taste in music and your funky new place! You've earned it.
Photo Courtesy: We Heart It