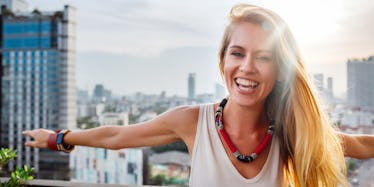 The 25 GIFs That Perfectly Describe Going To The College of Charleston
Stocksy
The College of Charleston, aka CofC, is located in Charleston, South Carolina. This relatively small college (11,000 students) consists of six academic schools in addition to an Honors College and Graduate School. As any student at this university knows, the student population is primarily composed of females.
Despite their sports teams, the Cougars, having a spot in the NCAA Division I, they do not have a football team. This does not stop students from having immense pride in their institution.
Let's take a look at the 25 GIFs that perfectly describe CofC!
1. When you have at least one friend who is a "DJ"
2. If you flash your tits, you can get free pizza
3. Having to hide your alcohol on the beach because of last year's drunken riot on the 4th of July
4. When you are used to having Adderall binges during finals week at Addlestone
5. At least we have a good football team...oh wait
6. City pride > school pride
7. Having a class with 24 girls and 3 boys
8. Looking forward to Monday and Wednesday nights, so you can holler at the dollar
9. Getting drunk and dancing to live bands at music farm
10. You know about the Charleston shuffle: tripping on cobblestones from the 18th century
11. Are there any brunettes at this school? No, just blondes.
12. When you can go shopping in between classes
13. When you try spending most of your career learning at Folly Beach
14. Always ranked the most attractive city even though the boys don't realize it
15. When you learn that you have to drive 20 minutes for Chipotle
16. Getting a parking ticket without even having a car
17. Pimped out Cadillac golf carts
18. It's normal to be raging in houses from the 1800s
19. Bottomless mimosas, enough said
20. Nothing is better than rooftop bars and outdoor courtyards
21. Using your off campus meal plan to buy Andre at the nearest corner store
22. You take a shot when you see a tourist and finish your drink if they're wearing a sunhat
23. Drunk bike taxi rides are standard
24. Having sex on Marion Square
25. Getting an MIP (minor in possession) at O'Malleys your freshman year
Courtney Shaw | Elite.