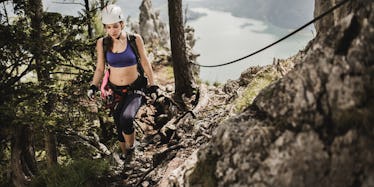 The 25 GIFs That Perfectly Describe Attending The University Of Michigan
Stocksy
The University of Michigan is one of the top schools in the nation, as it is ranked as one of the original eight Public Ivy universities. Located in Ann Arbor, Michigan, this school is home to over 40,000 full-time students. This is definitely a party school, as there are approximately 60 fraternity and sorority chapters, as well as 900 other student organizations.
Football is no joke at this university, as the Wolverines are members of the Big Ten Conference. The football team plays in what they call "The Big House," the largest stadium in the world that can hold over 100,000 people. This university has an incredible amount of school spirit, as you can see the students decked out on campus in maize and blue on a daily basis.
Without further ado, let's take a look at the 25 GIFs that perfectly describe attending this great university:
1. When playing Jewish geography 10 times a day is the norm
2. When you realize that you know more people from Long Island than Michigan
3. You're scared of big fat squirrels
4. When the secrets start coming out at Tequila Tuesdays at Skeeps
5. Waiting on line at Skeeps
6. When you try to get a Skeeps card
7. When it's nice out, you skip class and start drinking at Dominick's
8. When your date parties seem to be only in the bad parts of Detroit
9. Hell no, I'm not going to north campus.
10. When you see Denard Robinson or Trey Burke
11. Trying to flirt with the attendant to get that guest pass to the Ross gym
12. When PSIU got kicked off campus
13. When you can't find a seat at the Ugli
14. Waiting for the Ref Room to open on Saturday
15. When you know where to stand and post up at Skeeps
16. RIP Studio/Dream
17. When a geed asks you what time the pregame for the game starts
18. When you see NYPD Michigan salad bar
19. When someone suggests late night Chipati or late night cheesy bread
20. Celebrating Hash Bash…not on hash bash
21. Where students pregame as hard as they study
22. After you chug your 40s in the alley on the way to the game
23. Freaks in the diag
24. Not wanting to be seen, but going to the places to be seen
25. Driving everywhere, despite being only 1.5 blocks away