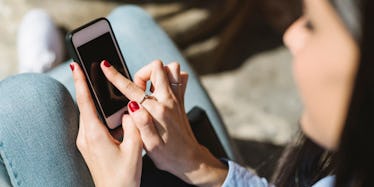 10 Apps That Will Boost Your Productivity And Help You Stay Sane
Whether we choose to be okay with it or not, we're on the brink of living in a world that has gone completely digital.
Nowadays, people are more likely to buy a virtual storage space over a physical one.
We carry entire libraries around in our purses or briefcases, conduct classes or business meetings without ever seeing our peers in the flesh and create pseudo-worlds from which we gather our self-worth and sense of belonging (i.e. social media).
This doesn't stop with age, either.
My grandmother has a Facebook, my youngest brother just learned how to FaceTime and if my father even thinks about stepping away from his email, he's afraid he'll get behind.
Even I, a recent college graduate who thought she was done with the days of sitting and staring at a computer screen, have somehow acquired a job that is entirely administered through the means of this same device.
Unless we make it our life mission to not use technology, we will inevitably find ourselves sitting down to use a gadget or gizmo on a daily, if not an "all day, everyday" basis.
So why not accept our unavoidable fate with welcoming arms and use these tools to our advantage?
I'm looking at you, web apps.
With over 1.5 million apps in the App Store alone, we have so many options for uniquely designing and organizing our lives.
But because that list has become quite extensive, I've narrowed it down to the 10 best apps that are guaranteed to make your life easier.
Take a look at these below to stay organized, productive and sane:
This isn't just your average day-of-the-week calendar, people.
As a free calendar app that is available for your computer, tablet and mobile device, Sunrise connects to all of your email accounts, as well as other tools like Facebook and TripIt.
Not only are all of your meetings, events and important dates located in one place, but this app keeps you organized while beautifully integrating smart icons, profile pictures and a weather forecast.
Sunrise also includes a wonderful keyboard feature so you can schedule appointments and make plans straight from a text message.
By linking with Google Maps as well, this calendar app allows you to easily pull up directions before heading to your next meeting.
Wunderlist is the perfect app for straightforward list making.
There's no fluff or jumping through hoops; it's just to-do lists in their purest form.
Between the browser extension and mobile app, your to-do lists will always stay in sync and up-to-date.
Wunderlist just recently introduced folders as well, so you can categorize your to-dos into sections like work, family and groceries.
You're allowed to set due dates and reminders for specific items, as well as share and assign lists and to-dos with others.
So whether you're planning an event with lots of moving parts, creating a packing list for your upcoming travel plans or setting reminders for movie release dates, Wunderlist takes care of it all.
From memberships to medical information, and online banking to countless social media accounts, there can be a lot of important data to keep up with (and keep safe) on a regular basis.
Raise your hand if you click "reset my password" link every time you need to log into an account.
Instead of trying to remember your randomized and jumbled PayPal account password, or even worse, writing it down for someone else to find, simply remember one password that locks all of your other secure credentials behind bars.
Not only in web and mobile app form, 1Password also has a browser extension so you can save your usernames and passwords on the spot, as you're creating a new account.
Dropbox is the ideal online file cabinet for users on the move.
The app simultaneously works as a secure backup while also allowing you to access your entire library of important documents, images and videos from wherever you are.
After taking photos on your mobile device, for example, choose to have them sync directly with your Dropbox app.
From there, you can access your photos from any computer by logging into your Dropbox account.
The app can also be used as a workspace for you and your peers to collaborate on a specific project or assignment.
Dropbox has integrated a "share" feature so you can easily create a secret, but shareable link to send out to others.
TripIt is great for keeping up with and organizing all of your travel plans.
No more searching for confirmation emails, mixing up your confirmation number and booking reference number or printing out a handful of "important papers."
Simply forward any travel emails you receive to your designated TripIt email address, and your travel itinerary is synched accordingly within the mobile app.
If you book a flight from Washington DC to New York City, for instance, not only will you be able to see your terminal, seat number, arrival time and booking info at a glance, but you can also view unique ground transportation routes once landing at JFK airport.
Save your hotel information within TripIt as well so you know exactly where you're headed once collecting your luggage.
Spotify is a music streaming app that allows you to cultivate your own music collection, listen to playlists based on your specific moods and follow the songs your friends are listening to.
While this app comes with both free and premium options, the premium version is a complete game changer for your music listening needs (and it's only $4.99 per month for students).
For these minimal monthly payments, you'll do away with advertisements and restrictions to skip and fast-forward through songs.
A premium account will also get you a higher quality version of song and the ability to listen to your playlists offline without using up all of your data.
If you need to hunker down and get a good chunk of work done, put on an "Intense Studying" playlist straight from your computer app.
Later, when you go grab a quick bite to eat, continue the same playlist straight from your phone.
There are countless articles coming out about how sitting is killing us, how sitting is the new smoking or how sitting is harmful even if we exercise.
To combat the unavoidable sitting-while-you-work phenomenon, install the Stand Up! app to your mobile device.
This application reminds you to take breaks from your work and literally stand up.
Whether you have a 9-to-5 desk job, or you're a student who studies during a set time every evening, you can tailor this app to automatically set reminders asking you to stand every 5 minutes to every 120 minutes.
You can customize these reminders based on your location, the time of day and the day of the week.
I'd like to think of Pocket as the Pinterest of real life.
While Pinterest allows you to piece together your dream home and ideal wardrobe wishlists, the Pocket app acts as a real-time list of anything online you may want to reference in the future.
Cut back on procrastinating by using the Pocket browser extension to save those read-worthy articles without interrupting your overall focus to read them in the present.
When checking into Pocket later, the app will have separated your items into different categories like videos, images, articles and favorites.
Evernote is one of those wonderful apps that's customizable based on the needs of the user.
Students: Create a different notebook for each of your classes. Take notes, assign tags for different units or concepts and share notes directly with your classmates.
Business professionals: Use Evernote to collect important documents or business cards, and keep track of your professional and personal life.
Writers: Take advantage of the infinite notebook to collect your thoughts and musings, rough drafts and final drafts.
Evernote also has a great "reminder" feature that keeps you on track of any important assignments or projects you may be working on.
Do you work best when you get that "Where are you?" text message?
Need a reminder from yourself every now and then that you're awesome?
Enter HiFutureSelf, the messaging app that allows you to literally text your future self.
Instead of having to check a specific place to see your to-do list or reminders, HiFutureSelf sends a text message straight to your phone to pop up in front of whatever you're doing.
Use this app to remind yourself to switch the laundry over to the dryer or follow up with a friend after a coffee date.
Better yet, use HiFutureSelf to send yourself little affirmations when you know you're going to need them the most.