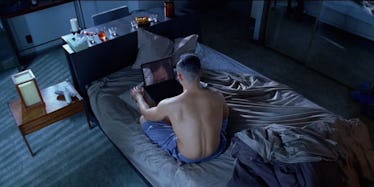 Kids These Days Will Never Know The Real Struggles Of Finding Porn
Don Jon
Kids these days have it easy, let me tell you.
Compared to how sh*t was back when I was growing up -- and even more so, when my father was growing up -- it seems like the youths of America gets everything handed to them on a silver platter.
Back in my day, I had to work to get the things I wanted. Take video games for example: Kids today don't even have to move from their couches, at all, to buy video games.
You can just "download them," straight from the bloody console.
When I was a young kid, my friends and I would have to call our parents and see which one of them could give us a ride to the nearest Blockbuster whenever we wanted a new game.
Think about television, in general. We would have to take the time to clear our schedules in order to watch our favorite shows.
If we wanted to watch "Hey Arnold," we made sure to cancel all of our plans at 6 pm on Wednesday to ensure we could do so.
Nowadays, kids just tell their parents to set the DVR for them, and they watch at their own leisure.
And that's the common theme here: leisure. Kids these days have a very leisurely lifestyle, which is great for them, I suppose.
But, the way I see it, the best things in life usually aren't the easiest things.
I mean, let's be real here: Growing up in the late 90s and early 2000s surely wasn't anything too trying -- but, still, it's night and day compared to what kids are like in 2015.
Over the past 10, 15 years, there's been a maaaaajor overhaul with respect to all things Internet.
See, when I was in elementary school, it was during the days when the Internet was still new -- it was still, I don't know, mysterious.
To this day, I remember when I first was introduced to "Napster," where you could download music -- cue dramatic score -- illegally. Like, kids in 2015 just take sh*t like that for granted.
Yes, there was, in fact, a time when you had to spend money to listen to the music you wanted.
And speaking of Napster, aside from solely being able to download music illegally, it wasn't long before my early Gen Y peers and I discovered you could also download PORN illegally, as well.
And at that point, it pretty much gone and changed the entire porn game -- but, before then, it was like the Western half of America prior to Manifest Destiny: a pure and utter free-for-all.
Pornography, much like video games and television, wasn't as easily accessible to people who are in their early 20s (or older), today.
We had to struggle to find quality pornographic material; we had to scrap. We didn't have iPhones in grade school, I'll tell you that much.
I think that's the aspect about kids today that really leaves me scratching my head the most.
I'm confused why, like, every f*cking 8-year-old kid and his brother has a goddamn iPhone in 2015. Like, what?
I'd love to have a quick conversation with the parents of these young whippersnappers.
Do they know what iPhones mean -- for kids under the age of 14? They're literally wireless porn devices, ones they can also play a variety of different games on.
Giving your young child an iPhone is pretty much the parental equivalent of handing your offspring a hall pass for convenient masturbation, pretty much for the rest of their lives.
One Google search, and they'll never be in need of any… creative inspiration, so to speak. I had to f*cking go out and FIND that inspiration, when I was that age.
Do you realize how many times I was forced to try and imagine what Martha Stewart looked like -- under a woolen cardigan -- on the cover of one of my mom's Good Housekeeping magazines? Often.
But that was just the way of the world back then for a kid like me.
Porn wasn't something that was "one click away." There were times when you had to do a little work on your end.
In middle school, the boys and I used to trade -- I kid you not -- ripped pages out of nudey magazines, in the schoolyard.
And if one of us found our dad's Playboy stashes -- don't get me started -- that kid ruled the f*cking prepubescent roost until one of those pieces of papers got too crumpled or ripped (God forbid wet).
Kids these days are just missing out on that. Sure, it was tiring; it wasn't always easy -- hardly ever leisurely -- but it provided a sense of accomplishment, when, you know, you finished up. And THAT'S the major take home point here.
Porn is really a microcosm of life. It's not about taking the easy route or the path that's most convenient -- it's about working hard, finishing strong and, most importantly, not getting caught.
But, at least back in my day, I never had to worry about search history.