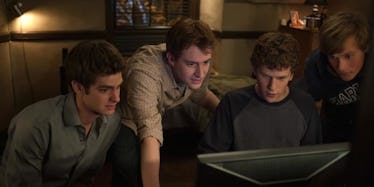 From Classroom To Boardroom: 4 Tips For Starting A Business In College
Columbia Pictures
If you're interested in starting a business in college, you're in great company.
Mark Zuckerberg, Bill Gates and our very own CEO, Liz Wessel, developed business ideas during their undergraduate years.
As encouraging as these success stories are, it's challenging to forge your own path during college, especially if many of your friends are planning on entering companies that have been well-established for years.
Even so, as a college student, you have a lot of leverage and resources at your disposal.
You just have to know what you need to do in order to succeed.
Check out the tips below. They'll help to lead you in the right direction as you embark on this new venture.
1. Be willing to give up your free time.
If you're not in class, you'll probably be working on your idea.
Jesse Kaplan, now the founder and CEO of an NYC delivery service called Parcel, started a popular bakery and coffee shop in his Harvard dorm.
He spent about 10 to 15 hours a day working on the café during its launch, and after the café took off, he worked about 20 to 30 hours a week.
Yeah, that's a serious time commitment.
It's no surprise that with a full academic schedule, extracurriculars and a job during the school year, giving up your free time won't always be easy.
However, if you're passionate about growing your startup, keeping yourself motivated won't be as difficult as you think.
2. Don't be secretive about your idea.
Anyone with a great idea knows there's always the possibility someone might steal it.
However, as counterintuitive as it may seem, it's better not to keep your idea under wraps.
Instead, ask for feedback and support, not only from the people you trust, but from professionals who can give you the guidance you need to implement your idea.
"Cold email a ton and lead with, 'I'm a student,'" WayUp's CEO, Liz Wessel, says. "Get really good at writing and sending great emails."
Wessel's mantra is everyone wants to help college students, and she would know.
She started UniEats, a company that sells restaurant discount cards to college students, during her sophomore year at University of Pennsylvania.
3. Be adaptive.
As innovative as your idea may be, your product or service may go in a completely unexpected direction. Venmo's original prototype consisted of money exchanges through text messages. Now, it's a mobile app.
This doesn't mean saying "yes" to every piece of feedback you receive along the way. You'll just need to be thoughtful about the responses and reactions to your idea.
So, do your research, and follow your gut.
4. Be willing to work hard without recognition.
"If you start a business, no one's going to know about you for a long time," says Jeff Carleton, founder of Carelton Energy Consultants and Heatwatch, which helps to reduce energy usage for building owners.
Not getting immediate gratification is frustrating.
This isn't only because we live in the instant age of "I want this now," but also because, in college, immediate rewards are everywhere, from winning a game to getting an A on your midterm.
However, Jeff says you "have to be happy with what you're doing."
Your entrepreneurial passion is what will ultimately keep you going.
This article was written by Kema Christian-Taylor for WayUp.