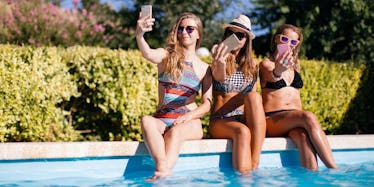 6 Ways You Can Make A Killer First Impression On Your Social Media Accounts
Social media has connected all of us in ways never imaginable to generations past.
With the swipe of a finger we can check up on what our friends and family are doing whenever we want; we can communicate with them daily, even if they're across the globe.
But there's also a competitive side to social media.
With the ability to see what everyone around you is doing and how many likes they have, you begin to compare your life and popularity to others -- this leads you to trying to "one up" them.
You must remember to keep your social media experience positive and uplifting. Post what you want to post, not what you think will get the most likes.
Here are six tips to make sure you have a killer first impression on your social media accounts:
1. Make Sure Your Profile Pictures Are Only of YOU
Your Facebook pictures and Instagram photos say a lot about who you are.
I recommend sticking to pictures without your friends in them as your profile pictures. When people scroll through Facebook, you want them to know it's your profile.
Also, if you use dating apps like Tinder, which tie into Facebook, this becomes extremely important.
Online dating is confusing enough without having to worry about who's who in a group photo.
2. Take Lots Of Selfies And Ask For Opinions
Remember a lot goes into posting a picture: the background, your outfit, how creative you can be while posing and what kind of face you're making.
So take a ton of selfies, or have a friend help you take pictures during your next night on the town and ask them to help you choose which one you look best in.
Your online personality is something you should carefully craft to communicate what matters to you and who you are. Use your Instagram to express a consistent vibe that portrays this.
Photos taken while hiking outdoors, in bright, sunny places are another great way to show off your bright, vibrant personality.
3. Plan A Social Media Centered Event Every Month
If you want to wow your followers, you've got to leave the comfort of your home once in a while. I'm not just talking about going to work or the gym.
Go on an adventure, discover new places and spend time connecting with people.
Post your adventures on your social media and let your followers live vicariously through you.
And, if you're thinking strategically, you'll go with other friends who have substantial social media followings; their followers will soon become your followers, too.
4. Be Yourself
The people who blaze a path and embrace life in their own way are the people who really wow their followers with amazing social media posts.
Share a unique talent, or a passion with those around you.
Find a way to share experiences with others and you'll soon have a booming social media following, or at least a really cool online personality to accompany your killer real-life personality.
5. Inspire Those Around You
Don't be afraid to share success stories.
How did you overcome the adversity and challenges you've faced thus far in life?
If you could share some heartfelt advice with a younger you, what would you say?
Find a way to craft your message in a helpful, supportive tone. But try to avoid Facebook rants and lectures (everybody just switches the channel on those).
6. Show Your Funny Side
If you can make people laugh, without putting anyone down, you'll find a very engaged audience sharing in the laughter online.
Social media is an excellent place to post witty one-liners, or entertaining observations.
Keep your eyes peeled and your ears open for the crazy things happening every day. Let your friends and family share in those moments with you.
Above all, be a force for good by adding value, enjoying yourself and taking your friends along for the ride. Share about experiences volunteering and giving back to the community.
If you want to win the internet, it starts with a sense of curiosity, an attention to detail and the energy to create and share your life with the world.