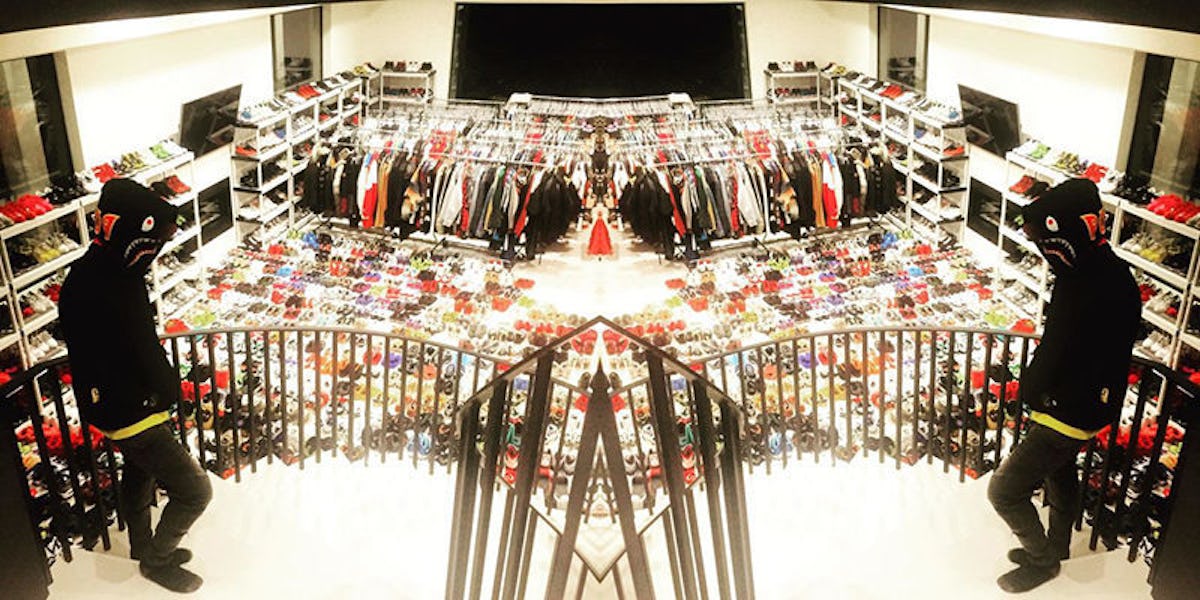 Sneakerheads Are Organized, Business-Savvy And May Even Live Longer
Sneakerheads are everywhere.
They're not just the people camping outside of Foot Locker at 5 am to cop the new Jordans or on Instagram flooding your feed with every shoe imaginable and being mad annoying about it.
They're investors, collectors and appreciators of a cultural art.
They come in all forms, are from all walks of life, are both male and female and all share one common passion: buying (and reselling) fly kicks!
What is it about sneakers that has people so obsessed?
The cultural obsession with sneakers isn't just a trend that's going to go away. Ever since Run-DMC dropped "My Adidas" in 1986, sneakers and hip-hop have been synonymous in influencing our society.
The urban community has pushed many trends in the past and numbers don't lie, Americans spent over $20 billion on sneakers in 2o14 alone. That's roughly 5 percent of all US business.
The best way to look at it from an aesthetic standpoint? It's wearable art. Roc Nation Sports executive and avid sneakerhead Shawn "Pecas" Costner owns over 1,500 pairs of sneakers and perfectly described his addiction by saying,
Everybody wants to be fly. That's all it is.
Big misconception: Sneakerheads are collectors, not hoarders.
So, how many pairs can you buy before it gets to the point of hoarding?
The major distinction between being a collector and hoarder is that hoarders become pathological and let their obsession overtake their lives and in some cases, the lives of others.
That means letting their prized possessions stack up with no order, creating chaos and a complete mess.
In a "60 Minutes" feature about sneakerhead culture, host Pam Oliver noted a true sneakerhead is, in fact, organized and appreciates each of his or her pairs of shoes individually. She said,
For a true sneakerhead it's not enough to own the sneakers, you've got to treasure them.
Organized people are more aware, do better in life and even live longer.
According to a University of California at Riverside study by psychologist Howard Friedman, people with good organizational skills have the upper hand. He told the BBC,
People [who are organized] are more aware best practices for their health, they risk less and tend to have more stable jobs and marriages.
He even added that collectors like sneakerheads could live longer, saying,
Many of these individuals have to a biological predisposition to be healthy.
Sneakerheads pride themselves on being organized, which is especially impressive when it comes to how many pairs of shoes they own.
In many cases, that means they have the same pair of shoes in 20 different colors, and scour the country for every retro pair created since Nikes first came onto the scene.
To some people, that sounds borderline insane, but to the sneakerhead, it's the price he or she pays to stay with the trends. As long as sneakerheads are keeping their collections organized, they're respecting the art.
Sneakernomics has changed the game and created business values for sneakerheads.
A big part of sneaker culture today is the selling and trading market, otherwise known as sneakernomics, which has boomed over the past few years.
Kids as young as 13 and 14 are going to trade events like Sneaker Con to sell exclusive sneakers sometimes more than twice the market value.
Being on top of sneaker release dates is essential as most sellers try to flip the kicks the same day they come out. That's the reason kids are camping outside of Foot Locker in the middle of the night.
According to Josh Luber from Campless.com, the resale market on eBay reached around $200 million in 2014 alone.
With many sneakerheads capitalizing on the online market now, it's become easier than ever to find someone looking to buy or sell.
Like many other aspects of business, those who hustle the hardest (and fastest) usually come out with more ends.
Collecting sneakers isn't just a hobby; it's a lifestyle.
You don't need to own a hundred pairs of sneakers to be a sneakerhead. You just need to be passionate and actually love sneakers. OK, and probably own at least 30 pairs.
Like many other things you spend a lot of time on, it can get addicting and it depends the kind of person you are to not let it completely take over your life.
But to quote New York Giants receiver (and yes, avid sneakerhead), Victor Cruz, it could be worse!
I don't think an intervention is necessary because if there's an addiction I'd rather it be sneakers than anything else.
Collecting shoes is cool to up your swag or make some bread, but for others, sneakers tell a story: maybe when you were a child they were your favorite pair, or maybe your favorite ball player laces them up every time he steps onto the court.
Either way, there's sentimental value in each pair, and with the right color and jeans, you can be the flyest motherf*cker in the room.