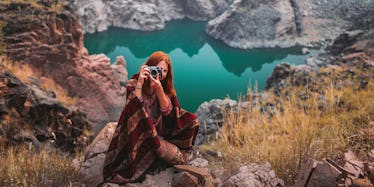 6 Ways To Get Your Side Hustle Off The Ground Without Quitting Your Job
Alexander Grabchilev
It's easier than ever before to manage a side hustle along with a full-time job.
There are countless resources available to guide you in your pursuit of passionate work, which means there's no excuse to put it on the back-burner for one more day.
Don't let an eight-hour workday stand in the way of the endless possibilities of a side project you love. As 2009 Bow Wow would say, "You can have it all."
Is a passion project calling your name, but you don't know how to start?
Check out these six tips for finally launching a successful side gig without sacrificing your day job:
1. Audit your time.
Develop a clear picture of how you're currently dividing your time before and after work.
The easiest way to do this is through daily journaling — either in an app, on a notepad or even a sticky note. This is a judgment-free zone.
Jot down the day's activities as they happen, including what the activity is (ex. "Game of Thrones" binge) and how much time it takes up. (Six hours every Friday night? Yikes. It's OK. We can work on it).
Don't obsess over the details. Just notate key things that take up large chunks of time.
2. Get your priorities straight
Separate the day-to-day happenings you can't live without from the ones that are straight-up just killing time.
Then, try to determine where you can save time to dedicate to your new passion project.
Be honest with yourself. Could you cut down your "GoT" marathon from six hours to two? Could you avoid that 45-minute deliberation about your #OOTD by prepping your work clothes the night before?
Work on pinpointing areas where you can speed things up without negatively affecting your day.
If that means continuing to indulge in a full six hours of "GoT" — for sanity's sake — so be it. But maybe save it for the weekend, huh?
3. Use downtime wisely.
No free time is a bad time to side hustle, folks. Weekends, holidays and other days off work provide ample time to dedicate to your passion project.
You can sleep in, make breakfast, take care of chores and still have hours left to spend growing your gig.
PJs are a side hustler's suit and tie. Ask anyone.
Got a free day with nothing to do? Grab some caffeine, turn on some tunes and get down to business.
For full-timers, slow days like these are few and far between, so make the most of them.
Knock out some of heftier items on your project's to-do list, like designing business cards or setting up a custom site.
4. Join a community.
Forego the painfully tedious process of learning how to side hustle all on your own.
Look into online groups made up of people with similar passion projects as you and people who have "been there, done that" and can give you advice about questions you may have.
Facebook, Meetup and even Reddit are all popular platforms for these niche groups.
Some even go so far as to host informational webinars or giveaways that can help you get your side gig off the ground.
5. Start collaborating.
It's only a matter of time until you come across someone in one these communities who shares your skills and goals. Why not team up?
Not only can the input of another side hustler give you a fresh perspective on your work, but you can also easily double the awesome factor of your passion project — and split the workload in half — by getting a like-minded person on board.
6. Plan ahead.
The stress that comes with trying to do million things at once can really drag you down.
Hey, no one's blaming you. We get it; it's in your DNA.
That being said, there's no shame in getting a little help from a social media automation tool like Hootsuite or Buffer to schedule content in advance.
More of the old-school type? Use a planner or a desk calendar to keep track of your side gig tasks for the upcoming weeks.
Putting your plans in print makes it more likely that you'll stick to them. Plus, now you'll have the perfect to excuse to start being the organized person you promised to be.
Time to kick those New Year's resolutions in the butt.