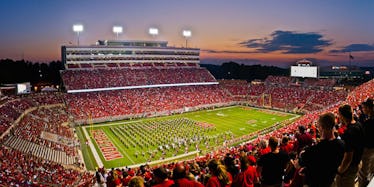 2 People, 3 Places And 3 Things That Make Raleigh A City To Call Home
While I have only lived in the city of Raleigh for the past four months, I feel like I fit in very well.
Raleigh, the capital of North Carolina, has a southern charm feel with the hustle of a city. After growing up on Long Island and spending my last summer in Manhattan, this was quite the change for me.
I think what made the adjustment so simple for me were the people, places, and things of Raleigh:
The People.
1. The Raleigh natives
There are people who can call Raleigh their hometown, but they are very rare. I am often caught off-guard when I meet a lifetime resident of Raleigh, but I love picking their brains about all the good spots to try and those to avoid.
2. Everyone else
As an extremely transient city, many Raleigh residents have relocated from other states for a college education, job or just for pleasure.
This is what makes moving to Raleigh a convenient and nearly painless journey. Every day in this city is a chance to meet people from all different cities within the US and even other countries. As a transplant myself, this has been a comforting fact to know I am not the only one from somewhere else.
These differences among races and cultures have opened my mind to diversity and its ability to unite people through common interests.
I have also learned the possibilities of opportunities we can have when we decide to make changes. Most importantly, I have realized that home is where your loved ones are.
While I occasionally find myself missing my childhood friends and suffering from hometown blues, I know Raleigh is my new home, and it, too, is beautiful.
The Places.
Oh, the places you'll go. Raleigh may be a smaller city, but it is flooded with many destinations that suit all interests.
1. The parks
Many of Raleigh's residents are active, outdoorsy people, thanks to the city's warmer climate. You can find a park at least every two or three miles with courts for tennis, beach volleyball and basketball, fields for soccer and baseball, and outdoor grills.
The Greenway also makes for a great trail run or bike path around the city of Raleigh.
2. The colleges
As a Penn State grad, I was not surprised by how much school pride exists in the Raleigh community. The famous Duke Blue Devils, UNC Tarheels and NC State Wolfpack can be found everywhere in Raleigh.
These three huge universities all belong to the city of Raleigh in what is best known as the Triangle Area. The campuses are home to countless students from all over the world, bringing Raleigh even more of its diversity. The camaraderie is intense, yet playful enough to jump in on even if you're from out of state.
3. The breweries
Not only is Raleigh in touch with nature and academia, but it also provides for a vibrant scene among the beer lovers. Approximately 20 breweries can be found in downtown Raleigh and the greater Raleigh region.
Home to a variety of craft beers, these breweries draw in extensive crowds on the weekends and offer many different options for the beer connoisseurs.
Lonerider Brewing Company, my personal favorite, brews Shotgun Betty, a German-style Hefeweizen beer you can find at nearly every bar in Raleigh.
Crank Arm, Big Boss, Clouds, Raleigh, Trophy and Gizmo also deliver distinct collections that will make craft beer tasting your new favorite hobby.
The Things.
1. Activities for everyone
Thanks to Raleigh's unique crowd and places, it provides for an expansive environment full of activities. Whatever hobby you enjoy, you can find it in Raleigh.
Between coed intramural sports and line-dancing meet ups, you can make new friends with similar interests.
2. A world of opportunity
The job market of Raleigh is well-known and successfully growing faster than most others in the United States.
Because we are forced out of our comfort zones, we are able to discover much about ourselves, as well as the beauty of our differences from others.
We create an atmosphere full of opportunity and a chance to go in directions we never even knew existed.
3. The friendliness… and biscuits
When it comes down to it, Raleigh is in the south. You will be greeted politely by, "Sir," or, "Ma'am," regardless of your age.
You are now categorized as "y'all." You are surrounded by mostly strangers who want to take a few minutes out of their days to get to know you a little better.
Oh, and you will eat biscuits. And you will enjoy them because they are fluffy and delicious.
I am a firm believer that every city has its beauty. I've had my fair share of travels and love to learn about new cultures.
If you want a city that feels more like a home right off the bat, then Raleigh is the place for you; I'm looking forward to meeting you soon!