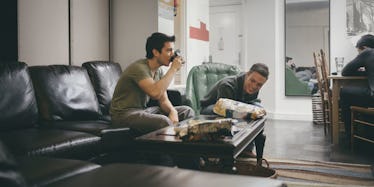 The 20 Things You Absolutely Need To Do At Penn State Before You Graduate
Stocksy
College is, without a doubt, the most carefree and fun four (or five) years of your life, so you need to take advantage of every opportunity your campus offers you. Each university has different traditions and landmarks that students should engage in. Today, we are going to look at the unique traditions that Penn State has to offer its beloved and devoted students.
PSU is a die-hard beer guzzling, football worshipping and academically acclaimed university. You can find students from every state and a variety of countries studying together on campus by day and partying together by night. This school is truly one of a kind.
Want a closer look at Penn State? Check out the 25 GIFs that perfectly describe attending this fine learning institution. We've created a list of the 20 things you absolutely need to do before you graduate from Penn State.
1. Get into a bar with a fake ID without getting arrested
This is probably the most difficult task at Penn State. The bars on campus are notorious for their harsh underage policies unlike many other schools of this party caliber. If you can make it into G-Man or Indigo without getting your fake taken or the cops called, you deserve a medal. Even if you are of drinking age, this doesn't stop the bouncers from questioning your ID until you are on the verge of tears. Don't worry if this happens, they will reward you with endless free shots for the night.
2. Climb Mount Nittany
The breathtaking view from the top of Mount Nittany is something out of a brochure. Any student has the ability to climb this hill at whatever time he or she pleases, as it is open to anyone. This is a must before graduation! The best time to do this is in the early fall as the weather is nearly perfect, a rare occurrence for State College as all students know.
3. Eat a Grilled Stickie
The world famous Grilled Stickies are a PSU tradition as old as the school itself. Served at the 24-hour downtown diner, these treats are available all day, everyday. You can't graduate without trying one of these. Alumni all over the world have the ability to order packs of these for delivery, so they never have to give up their once beloved tradition.
4. Tailgate
Penn State is without a doubt a football school. The only thing more epic than the games themselves are the tailgates that precede them. Get your blue and white gear on and head to the miles of fields that surround the stadium. If you are under 21, be careful if you're drinking out of open containers as undercover cops plague the fields in hopes to catch underage drinkers.
5. Get thrown in the air at a game
There is nothing quite as exciting as PSU scoring a touchdown during a football game, unless perhaps you are that lucky person who gets tossed in the air for the time equal to the number of points the team currently has. Getting thrown up in the crowd is one of the most exhilarating experiences you could hope to have at PSU and one not everyone gets to take part in.
6. Camp out in Paternoville (Nittanyville)
Despite the semi-recent scandal that has disrupted the lives of many Penn Staters, the majority of the students still refer to this organization as Paternoville. There's a reason that PSU is constantly ranked as having one of the best student sections in the world. Their dedicated fans literally camp out outside the stadium in hopes of getting the best seats possible to support their beloved team. Joe Paterno lives on in the hearts of the students who participate in this tradition.
7. Have sex on Old Main Lawn/The Stacks/The football field
This may be a personal victory, but it will be something you remember all of your life. When you are old and depressed in the working world, you can always look back on this memory to bring a smile to your face. Who wouldn't want to make their mark on some of the most monumental spots on campus? And what better way is there to take a study break in the library?
8. Eat Canyon Pizza sober
If you have ever eaten a slice of Canyon pizza, you are well aware of the stomach ache that is sure to follow the next day. It takes a true champion to be able to enjoy this delicacy while sober. This is probably a top 3 favorite drunk spot for students to end their night with. You really can make the most out of the $1 slices here.
9. Get Creamery ice cream at least once
This Berkey Creamery is world famous and the largest university creamery in the United States. The ice cream, sherbet and cheese served here are all made through the Department of Food Science in the College of Agricultural Sciences.
10. Yell "We Are" at a campus tour
This campus wide tradition is something you need to do once at PSU. The opportunities to do so are endless as there are campus tours given on a yearly basis. Yell "We Are" and listen as the tour yells "Penn State" back at you. It doesn't matter that you don't know these people, as this tradition is encouraged by any and every attendee on campus. It shows the prospective students how unified the student body really is.
11. Attend a Frat party
It's irrelevant if you are active in Greek life or not, fraternity parties are a unique experience all in their own. No college career can be complete without attending one of these parties. The scenes you have seen in movies come alive in these houses. Never in your life will you see more underage kids consume the massive amounts of alcohol like PSU students.
12. Participate in THON
THON is the most life-changing experience you will ever have in your college career at Penn State. This dance marathon is the largest student run philanthropy event in the entire country; it raises money for pediatric cancer. Even if you are not part of an organization that directly donates money to the cause, you need to stop by the Bryce Jordan Center at one point during THON weekend. Trust me, this will be one of the most memorable things you can do at PSU.
13. Go on a bar tour
This is a tradition that every student needs to participate in at least once, if not more. What's more fun than bar hopping with your best friends all day long while dressed in matching, ridiculous attire? Coordinate with other groups if you want or just go with your friends and explore all the great bars your campus has to offer. Often times you are only hanging out at a handful of bars. This gives you the opportunity to check out bars you normally would not have.
14. Take a picture at the Lion Shrine
This is a great place to take graduation pictures or family photos, as this shrine serves as a symbol of the university. You can't attend PSU without getting at least one picture with the famous Nittany Lion. After the homecoming parade, the Lion Ambassadors will host an event around the Shrine filled with music, food and activities.
15. Go to Art's Fest
This event takes place in the middle of July over the course of one weekend. Students take advantage of this time to reunite with their friends and get absolutely sh*tfaced. What a way to take advantage of that lease you couldn't get out of for the summer. What is supposed to a celebration of art is actually just a front for students to come back to campus for one epic summer party. The only way you're actually checking out the art is when you make your way down from Fratland to Chipotle.
16. Get an underage
Underage drinking is an epidemic at Penn State. Walk barefoot around campus? Bam, underage. Drink out of a solo cup in public? Bam, underage. These citations are a huge joke to the students of the university, as many compete with one another as to who can acquire the most of these. Shout out to my freshman year roommate who takes the cake for underages in a college career.
17. Mifflin Streak
Tradition! Tradition! The Mifflin Streak is an ample part of Penn State's history. This event takes place on the Sunday before Spring finals week when students from all over campus group together and strip off their clothing and run across campus celebrating the end of the school year. Take a look at how the tradition began here.
18. Smoke a blunt at the Arboretum
There's nothing like smoking some good weed surrounded by beautiful nature. The Arboretum on PSU's campus is a new development over the past few years, having been completed in the fall of 2009 after receiving a $10 million donation. Every stoner has smoked in this location at least once if not more. If you're nervous, get one of your friends to drive their car over, so you're not exposed and in the open.
19. Attend a daylong
Non-Penn Staters will never understand why we don't just call it day drinking, but then again they cannot even begin to fathom the lifestyle in State College. Daylongs are open to anyone, but are hosted on the vast lawn of whatever fraternity has reserved that day. Beautiful weather is rare in State College, so the students take advantage of the nicer days by drinking to excess while soaking in the sunshine.
20. Celebrate State Patty's Day
This student-led holiday is a day that every college student in the country is well aware of. This celebration started on Friday, March 2, 2007 because Saint Patrick's Day fell over Spring Break. State Patty's day brings in alcoholics from all different colleges with one main goal: to black out and to f*ck sh*t up.
"State Patty's Day made its debut in early 2007 after a handful of students realized that the school's spring break would conflict with St. Patrick's Day. Utilizing Facebook, they created a group entitled 'The Official Group to Move St. Patrick's Day.' Their hope was to unify the student body in early celebration. With an accumulation of over 4,600 members, along with an effort to get bars in downtown State College involved, the group was successful in moving the holiday to Friday March 2, a day that has been dubbed as State Patty's Day."
* Bonus * Take a picture with the JoePa statue, JK (too soon?).
Photos Courtesy: Facebook