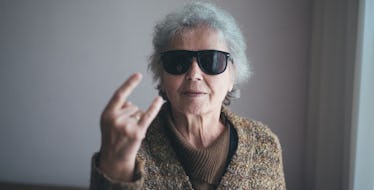 From The Pole To The Dough: How Two 20-Something Strippers Are Ready To Retire Rich
Stocksy
When you think of women who dance seductively for money -- on a stage, pole or laps -- the first thought that runs through your mind probably isn't one of empowerment.
Instead, you're probably thinking of the stale cigarette smells, desperation in the air and women who are either drug users or coerced into the profession, because what modern woman in her right mind would choose to use her sexuality to make a living?
It turns out, many women would choose it. A few years ago, researchers Teela Sanders and Kate Hardy interviewed 300 female exotic dancers and found that strippers make an average annual income of $125,000.
Out of the participants interviewed, one in four had a college degree and almost 90 percent had completed further education.
Twenty percent of the participants admitted to using their stripping money to pay for their education.
Sure, there are tons of dancers who started too young, couldn't handle the late-nights and cash money, and fell too far from reality, but with this standard, there are also exceptions.
There are also strippers who strategically planned from the beginning how long they would do it for and what goal they're working toward.
Twenty-eight-year-old Michelle Cerone put on her first pair of stripper heels eight years ago and plans to completely get out of the industry before she turns 35.
Her stripping story begins during her junior year in college when her roommate became a heroin addict, leaving Cerone with rent she couldn't afford on her $10 an hour rate for delivering pizza.
With nowhere else to turn, Cerone decided to become a go-go dancer, but the alcohol and drunk customers burned her out quickly.
The next year, she tried the all-nude, no alcohol strip clubs in New Jersey, which she says kept her sober at night and allowed her to concentrate in her daytime classes. At age 23, Cerone made enough money to buy a three-bedroom house in Middlesex, New Jersey.
She also owns two horses and two dogs, owes no money for her bachelor's degree from Rutgers University, and paid out of pocket for the $50,000 worth of graduate classes she's taken so far at New York University.
She needs five more classes -- or approximately $30,000 -- to complete her master's degree at the prestigious private university.
When she applied for graduate school, Cerone's plan was to take her classes, network, get a "normal" job, and retire from the dancing stage.
Somewhere along the way, she couldn't handle the class schedule, a broadcast journalism internship, and working full-time after hours. so she decided to delay finishing the classes until later this year.
In the meantime, the stripper/journalist has kept herself busy with the launch of her publishing company and her debut novel "Alex Murphy and the Golden Ram" expected to be released in July 2014.
The pre-teen book, which is about a girl from Northwest Jersey who discovers magic right outside her home, is the first out of a 12-part, zodiac-centered series. Cerone says all of the proceeds from the book will go toward helping homeless animals.
"Eventually I want the my company to branch out and do fiction and nonfiction, journalism, documentaries," says Cerone."The dancing allows me to pursue my dreams. It's a long shot and a big dream. But I have all the support. The club I work at, we're all family there."
Amber* is another example of a stripper who had plans from the first time she set foot on stage.
At the age of 19, she gave all-nude dancing clubs a shot when working at restaurants and go-go dancing wasn't providing enough money to send home to her family who lives in the Caribbean island Saint Martin.
The first time she danced wasn't easy and Amber describes it as feeling "very, very weird," which led to her immediately running off stage to grab her clothes. Her next time wasn't as dramatic, but it took two years before Amber truly felt comfortable with displaying her naked body.
Six years after she started -- at the age of 25 -- Amber put her stripping days behind her, owns four homes and an office in New York, all of which she has remodeled and currently rents to tenants.
Besides her landlord duties, Amber is going to cosmetology school, taking acting classes on the weekends, and in the process of obtaining a real estate broker's license.
She doesn't have to work because, up until three months ago when she quit, Amber was working 13 hour days, four days every week and making around $2,400 a day at strip clubs Go-Go Rama, Club 35 and Delilah's Den in New Jersey.
"I have enough money to retire now… I have enough money for years and years to come," she tells Elite Daily. "The houses are paid off so everything I make from the houses I just keep."
For her, from the beginning, dancing was all about getting to the next step and never a permanent solution.
"When you get in there, you're so busy making this money that you don't have time to sit down and let the stripping bother you," she says. "I was helping my family back home. I was paying bills. I was putting myself through school. Everything was falling into place."
As for whether those years were worth it or have a negative impact on her sexuality, Amber says she did what she had to do and that her years of dancing taught her that she was the one in control.
"You learn how you affect guys," she says. "They pay to watch you and they will do anything for you and give you the world. It felt like a power you have… that they would do anything I told them to do."
Cerone thinks of her profession in a similar way, even calling it "empowering."
"Most of the girls work seven days a week but we don't have anyone telling us to work seven days a week," says Cerone. "When you're making a certain amount of money, it's hard to turn that down. It becomes addicting." "I think a lot of people have this perception that there's pimps and that people treat us a certain way. In this industry, the girls are the products. You don't piss off your product."
*The name of this person has been changed to protect her identity.
Photo Courtesy: Tumblr