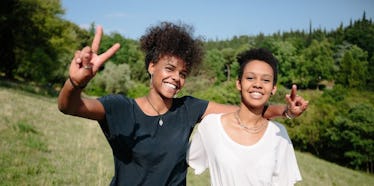 10 Gifts Your Friends With Natural Hair Will Definitely Thank You For
Good Vibrations Images
The natural hair movement has been growing amongst black girls and women for years. Many of us have decided to resist mainstream pressure to straighten our strands, and accept our natural curl patterns just as they grow from our scalps.
It's an endearing journey that has its ups and downs, thanks to how much upkeep it requires and how much flack (read: racism and discrimination) we get for simply embracing our hair in its natural state.
But when we aren't defending our hair against the powers that be, we're busy just plain enjoying it. Natural hair is as fun as it is (sometimes) complicated.
If you've got a naturalista in your life, here is a fool-proof guide to getting her the perfect gift she'll not only find useful, but will definitely appreciate.
1.  A Natural Cartoon Shower Curtain.
Grab this beautiful piece of bathroom décor from Rosegal for $16.
Polyester Waterproof Shower Curtain, $16, Rosegal
2. A natural hair hand mirror.
Buy it from the She's Trendy Etsy shop for $35.00. You can also request a custom message or design, as shown in the Insta post.
Self Reflection Puff Mirror, $35, Etsy
3. Natural hair pins.
These little handmade cuties run for $8.99 a piece on the Vicki Be Wicked Etsy shop.
4. A natural hair product gift box.
Forget that coupon to her nearest Sally's Beauty Supply store.
Surprise your natural friend with a gift box full of different natural hair products to try. Brands like CurlKit and CurlBox offer memberships that will give the natural hair enthusiast in your life something fun and new to try every month.
Every naturalista goes through those bad hair days when she can't do anything with her hair and honestly wants nothing to do with it.
But life's duties still call, so she still needs to look great on her lazy day. Hair wraps are funky, colorful and most importantly, quick. The Wrap Life is one of the most popular brands, with their scarves selling for $27.
The Wrap Life Zahari Head Wrap, $27, The Wrap Life
6. A "Black Girl Magic" coffee mug.
If your natural is a coffee or tea drinker, then this should help you kill two birds with one stone. The mugs only cost $12 in the B June Creations Etsy shop.
Black Girl Magic Mug, $12, Etsy
7. Solange cover art earrings.
She's likely been jamming to Solange Knowles's "Don't Touch My Hair" anyway because she relates so well. You may as well gift her with the album cover jewelry. The earrings are $24 in the KLT Art By Kendro Etsy shop.
Solange Cover Art Earrings, $24, Etsy
8. A casual t-shirt.
Napp2Reality sells these cool pop art tanks for $26.
9. Ouchless ponytail holders.
Don't sleep on this gift because of its simplicity. Every girl with natural hair uses and loses these things faster than she can blink. You may as well go ahead and re-up her supply.
They usually run for about $2 at any drug store, Target, Walmart, or Amazon.
Goody Ouchless Elastic Thick (Pack of 27), $4, Amazon
10. A pop art pillow.
If she likes decorating her place as much as she likes decorating her hair, then she's going to go nuts over this pillow from the Cryssy Crafts Etsy shop. It goes for $20.