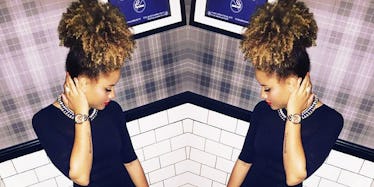 Why I Love My Thick, Natural Hair And DGAF What You Think About It
Here's the inside scoop: My mane transition had zilch to do with pro-blackness or some spiritual journey, like many black women of my generation claim. To be completely honest, I went natural because of a stupid boy.
Today, realizing a f*ckboy was the catalyst for what my gorgeous hair has become seems so silly that my inner feminist still cringes over it. But it's true.
Sure, I wanted healthy hair that mimicked the fluffy halo swarming Tracee Ellis Ross' dome. But more than anything, I desperately wanted to discard any remnants of that girl who was stuck in a messed up situationship.
So I started with my hair.
Before trading in chemical straighteners for coconut oil and flexi rods, I never cared much for elaborate hairdos, probably because I was constantly teased as a kid for oft-disheveled or stringy styles, made worse by hair relaxers. I'd believed my overly fried tresses would never be "cute" or "attractive" but merely tolerated because it was better than being bald. It's what made me stick to basic but surefire looks that flattered my face and did little else.
One time, after I was cheated on, I even went all scissor-happy and opted for a Rihanna-esque chop, then a too-tapered pixie. That was fun. My friends thought I'd gone crazy; I'm pretty sure I did.
It's amazing what you'll do to yourself in the name of love or others' twisted opinions. It wasn't until I ventured into natural hair territory that I started giving zero f*cks what people thought about my mop. I was tired of letting sh*tty exes and jeers from my grade school past dictate my ability to feel completely beautiful.
At first, I underestimated the difficulty levels of my God-given kinks, believing that since my hair was already short, I'd side-step the Big Chop and trim chemically damaged parts away as my mane grew. In my mind's fairytale, it would grow full and lovely like Solange's wondrous locks and I'd live happily hair ever after.
Yeah. No.
All myths I had in mind were true: My less than 30-minute morning hair prep –– which consisted only of combing down my wrap from the previous night and jetting out the door –– transformed into frantic, night-before pre-planning, where I'd freak out for hours choosing between a TWA (teeny weeny afro) or a wet set or tussle with my 'do to ensure it'd look decent enough to be worn in public.
I felt undateable being so far from my mane's comfort zone, unable to fathom how I'd survive my professional climb with unfamiliar, unrefined coils cascading from my scalp.
So I resorted to weaves to hide my process and eclipse the daily strand stress I was facing as my hair grew wilder and thicker. Instead of full-on commitment, I tried long "Poetic Justice" braids to keep my sanity and cuteness in tact while I figured out specific products to ensure my hair was full, soft and pliable.
While in the thick of such a major tress transformation, I realized I'd blossomed emotionally. 'Twas a soul-searching rollercoaster of a nightmare, but here I am, two years later and so in love with this spectacular mess atop my head because it's my own.
Nowadays, you'll mostly catch me wearing an unkempt bun or some unrestrained natural style that garners stares in NYC's Financial District, but I'm not hiding my hair. I've actually never been so proud of its versatile beauty and ability to help me heal.
So f*ck whatever India Arie was singing about –– you are your hair and all of it's natural allure! Every strand, every layer of your scalp, every bobby pin you eventually lose to keep it in place, it's all a part of your unique make-up that makes you queen. Wear it freely, even when it seems like a chaotic curlfest! And when you need a touch of encouragement, flip through e-pages that champion natural styles and curly girls who represent your locks.
I'll never again let a f*ckboy or an outside source of pain dictate how I rock my hair. I'm pretty sure my hair wouldn't let me anyway. Trust me, you don't realize how much your hair is you until you're forced to submit to its independent power and let it do whatever it wants.
And though my heart may still need some repair, at least I no longer have to resort to hairapy.