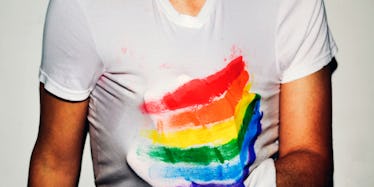 LGBTQ+ People Are Trolling Straight Privilege "Heterosexual Pride Day" Hashtag
Juan Moyano
Let's get this straight, people: Pride Month is not for straight, cisgendered people.
Pride Month is for members of the LGBTQ+ community to celebrate who they are, and to acknowledge the oppression they face.
There is no point in coopting Pride Month, since the straight identity is afforded many privileges that LGBTQ+ have historically been restricted from.
Still, some people on Twitter could not help but insert themselves into what is supposed to be a party for LGBTQ+ people only.
Yes, people. The bigotry is real.
A similar thing happened back in 2016 with lots of straight people wondering why they aren't allowed to celebrate their privileged straightness. You know, because wanting to assume the position of the oppressed is apparently trendy.
Thankfully, LGBTQ+ People Crashed The Party
Using the hashtag to call out straight privilege is awesome, but it's also really sad.
Straight people too often put LGBTQ+ people in the position to defend their identities, while trying to survive violence and discrimination.
In fact, the entire Pride Month was established in honor of the Stonewall Riots that took place on June 28, 1969, which was the first public physical resistance of discrimination against LGBTQ+ community.
That riot proves just how longstanding the violence from police and the general public is against LGBTQ+ people.
Today, they can't even use bathrooms in peace without it being an unnecessary subject of national controversy.
And when Pride Month comes around and they finally take a national stage for themselves, straight people try and take that away from them, too.
It is not the need for equality that tells us straight people that we need a "Heterosexual Pride Day." Privilege, exclusion, and entitlement is what's driving it all.
LGBTQ+ people should not have to remind straight people how oppressed they are, and why it's important for them to celebrate and affirm themselves.
The only thing straight people need to be doing with a "Heterosexual Pride Day" hashtag is reading what the LGBTQ+ community has to say about it.
Straight people, let's sit this one out, listen up, and check our privilege.