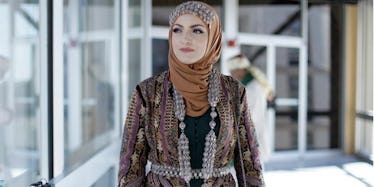 Meet The Woman Behind New York's First Hijab-Friendly Salon
Instagram
We've all had those horrible salon experiences.
You know the ones: There's hair everywhere, the hairdresser is rude and the haircut turned out completely opposite from anything you had in mind.
But if you think YOU'VE have it bad, it's probably nothing compared to the experiences hijab-wearing Muslim women face when they go to salons.
Since some Islamic women choose not to show their hair to men outside of their families, it can be hard finding a salon that will accommodate this.
But this is something Huda Quhshi wants to change.
Quhshi, who wears a hijab herself, is opening Le'Jemalik Salon and Boutique, a women-only, hijab-friendly salon in Bay Ridge, Brooklyn.
Quhshi spoke with Elite Daily on why opening the salon was important to her,
As a Muslim woman myself, I always had difficulty finding a salon that could accommodate my needs for a women-only space. For this reason, I always knew I had to do just that.
Le'Jemalik, which means "for your beauty" in Arabic, is designed to be a safe haven for women of "all faiths, ethnicities, races and ages."
The salon's revolving doors open directly to the reception area, which is completely blocked from the main salon floor.
Women therefore don't need to worry anyone will see them without their hijabs, as males won't be allowed onto the main floor. This is essential, as Quhshi herself had to run into the back room with wet hair while she was getting her hair done once, as a man had suddenly walked into the salon.
She tells Elite Daily,
Le'Jemalik is designed to be a safe haven for women who, for either cultural and/or religious reasons, could not receive such services at any other salon.
The salon is not discriminatory against any woman of any religion, meaning, yes, even if you don't wear a hijab, you are still welcome to get your hair done here.
"Women empowerment" is important for Quhshi, and she encourages anyone wanting to support a women-only business to stop by.
The salon offers all services from simple haircuts to complete head-to-toe treatments, including services like waxing, henna and makeup application.
Quhshi mainly specializes in bridal treatments, and can also accommodate bridal parties in her space.
She tells Elite Daily,
Muslim women observe the hijab as a symbol of modesty and faith. They will only feel comfortable removing their hijab if they know that no strange man will see them. For this reason, many of my clients have expressed to me that they fear going to a hair salon because they are afraid that they won't be understood or that the salon will not make the accommodations necessary. Some salons have tried to cater to this need by taking the women to a back room but usually these spaces are small and not equipped properly.
Le'Jemalik will have its grand opening on Sunday in Bay Ridge, Brooklyn.
Citations: The New York Post