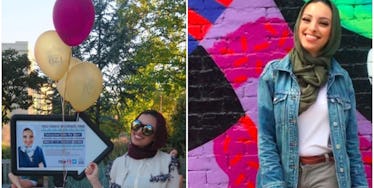 The Muslim Woman Wearing A Hijab For Playboy Is A Badass 22-Year-Old Reporter
Instagram
"Modesty" probably isn't the word that comes to mind when you think of Playboy magazine.
But that's about to change, thanks to American-born Noor Tagouri, who is featured in the magazine fully-clothed and wearing a hijab.
Tagouri is a 22-year-old journalist working for Newsy. She's from West Virginia, and is a first-generation Libyan American. She graduated from college at 20 years old, and is determined to become the first hijabi anchor on commercial US television.
The magazine – which is famous for its nude and semi-nude spreads of Playboy bunnies – included Tagouri in its "Renegades of 2016" issue. The article is called, "Media Wunderkind Noor Tagouri Makes a Forceful Case for Modesty."
Unlike the huge number of celebrities and models who have posed for the top shelf publication – such as Kim Kardashian West, Lindsay Lohan and Marilyn Monroe – Noor managed to keep all of her clothes on. And while most of those celebrities left readers with boners, Tagouri instead leaves them with something to think about.
In the article, Tagouri explains that the misrepresentation she faces as a hijab-wearing women enables her to win the trust of others. This motivates her to tell stories in a sympathetic and respectful way.
I know what it's like to have the narrative of our community be skewed and exploited in the media.
She explains,
Our society has seemingly become so desensitized to violence, abuse, death, rape and trauma. I find that people who go through these traumatic experiences have a hard time trusting reporters. Just a few days ago, I had an anonymous artist tell me he doesn't do interviews because he doesn't want reporters to 'take [his] words and run with it.'
She continues,
To be honest, I think being a hijabi Muslim woman helped me gain that trust. I know what it's like to have the narrative of our community be skewed and exploited in the media. I was like, 'Hey, I know what it's like to be misrepresented in the media. I won't do that to you. I want to tell your story because it's important and deserves justice.'
Even though the interview didn't explicitly deal with the discrepancy between Playboy's reputation and Tagouri modeling in it, Tagouri did stress the importance of acceptance: "Live your life as your truest self and encourage others to do the same! Support each other."
By deciding to be featured in such an infamous publication – and being able to do so fully-clothed – Tagouri arguably brings visibility to Muslim women without jeopardizing their integrity. She therefore transforms the perception of Muslim women. She shows that instead of being subjugated by their religion, they are empowered people capable of being role models to young girls.
However, despite Tagouri's message of acceptance and strength, other Muslims have been quick to condemn her decision to appear in Playboy.
Nishaat Ismail, a journalist from The Independent, slammed Tagouri for "associating with an institution based on the objectification of women in the name of challenging perceptions and celebrating female empowerment."
She further argued that it's hypocritical of Tagouri to "join forces with a sexist establishment that has debased other women by reducing them to sexual objects for generations" when she places female religious empowerment as her primary selling point.
People on Twitter were quick to blast these claims:
Regardless of the hate, Noor Tagouri is killing it in Playboy. And more importantly, she's giving off a positive message and attracting attention without taking her clothes off.
That's a lot more than can be said of most celebrities.