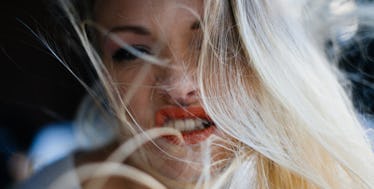 10 Reasons Why The Holiday Season Is Better When You're An Adult
For most of us, life is simpler when you're a child. It's a well-known fact. The happiest and most free I ever was at 6 years old.
While I notice the improvements that come with age, I also feel that life gets more difficult and much more complicated in adult life than child life.
Friendships are more complicated than just playing together at recess. We don't get nap times built into our days. And, there's the whole paying bills thing that kids get to avoid.
But, I have to hand it to the holidays: This special time of year many people dread is one of the few times I think it's much more fun to be an adult than a child. Let's talk about why:
1. The threat of no presents no longer holds you back
I imagine the day a child discovers Santa is not real is just as traumatic for parents as it is for the kids because the parents know their final bargaining chip is finished.
When you're an adult, you don't have to worry about the risk versus reward thing that Santa holds over children.
If you don't get what you want, it's because your significant other didn't read your list and at some point, will have to pay for that, but you don't have to sweat it because…
2. You can buy gifts for yourself
Does anyone else use Black Friday as a perfect time to buy that TV you've been wanting and is now 50 percent off, without worrying about buying anything else for anyone else? Or, is it just me?
Let's face it: Holiday sales are a great time to take care of one of the most important people in your life. That's you, of course.
3. Holiday bonuses
Yeah, work sucks, I know. Technically, as a kid, you don't have to work, so you're winning already. But, is there anything better than the beloved holiday bonus?
I don't remember school giving you anything extra, except for some goodie bags to celebrate the end of the year.
I'll take extra money in my bank account over some candy coins any day.
4. It's the perfect excuse to blow off your diet
This is a little bit of a double-edged sword, too, because kids don't need diets or count calories, so they win this battle, for most of the year. But, the holidays — oh, the holidays — are when you can indulge in chocolates, cakes and every kind of potato there is.
It really is that much sweeter because you know it's only for a few weeks a year, so you'll live it up — or eat it up, in this case.
5. Ugly sweater parties and holiday parties in general
I don't have anything against the classroom holiday parties in grade school, where you had cookies and juice and maybe a Secret Santa gift exchange. They were quite fun at the time.
But, there is something so wonderful about wearing the most ridiculous-looking outfits you can find and then drinking too much with your friends while singing off-key to Mariah Carey. Those are real memories.
6. Eggnog, among other alcoholic beverages
Eggnog, hot toddies, white Russians — isn't that what the holidays are all about? Okay, not really, but they do make things a lot more interesting and much more fun.
Shirley temples and punch do not hold a candle to the wonderful deliciousness that is holiday cocktails.
7. Being a part of the magic of the holidays for little kids
The holidays are truly magical for little kids, but as an adult, you get to be part of the magic and that's even better.
You know that the holiday magic of the movies isn't real, but it doesn't stop you from doing your part to make magic happen for the little ones you know.
Some might argue that it's more fun to be on the believing side, but I think doing something to make the holidays more special for someone else — even if it's just pretending there's a big guy in a red suit on his way to your house — is even more magical.
8. You can celebrate however you want
This is a perk of being an adult in general, but during the holidays, there's nothing sweeter than doing whatever you want.
You are no longer required to sit in four-hour-long car trips to see family. You don't have to attend country club dinners or carol in the neighborhood or anything you don't want to do.
Want to skip Christmas and go to the beach? You can do that. Want to start your own tradition of volunteering at a soup kitchen every Thanksgiving? You can do that, too.
Instead of obsessing over food, candy and presents, you are figuring out what's important and that is much more rewarding.
9. You enjoy your family
Maybe it's the turkey, the football or the gift exchanges, but the holidays are the best time of year to spend with your family.
It's over these dinners and holiday traditions that you learn funny stories about when your parents were in high school, make priceless memories playing drinking games with your grandmother and find out that your brother did steal your Walkman in middle school and subsequently, make him pay you back.
As a kid, you were usually more focused on whatever Santa brought, but as an adult, you can finally see the best part of the holidays...
10. Being able to truly understand and appreciate what the holidays are about
Presents are great, as are the parties and the booze, but at this point, we've all learned that the most important thing is to be present with the people we love, to be thankful for what we have and to give back to others.
We know this time of year only comes once annually and we should enjoy it, soak it up and hold on to the memories, instead of rushing through it on a quest to find the biggest present.
We may not believe in Santa or all of the movie magic kids have this time of year, but for us adults, we can hold on to the knowledge that the holidays can be just as magical in their own ways.