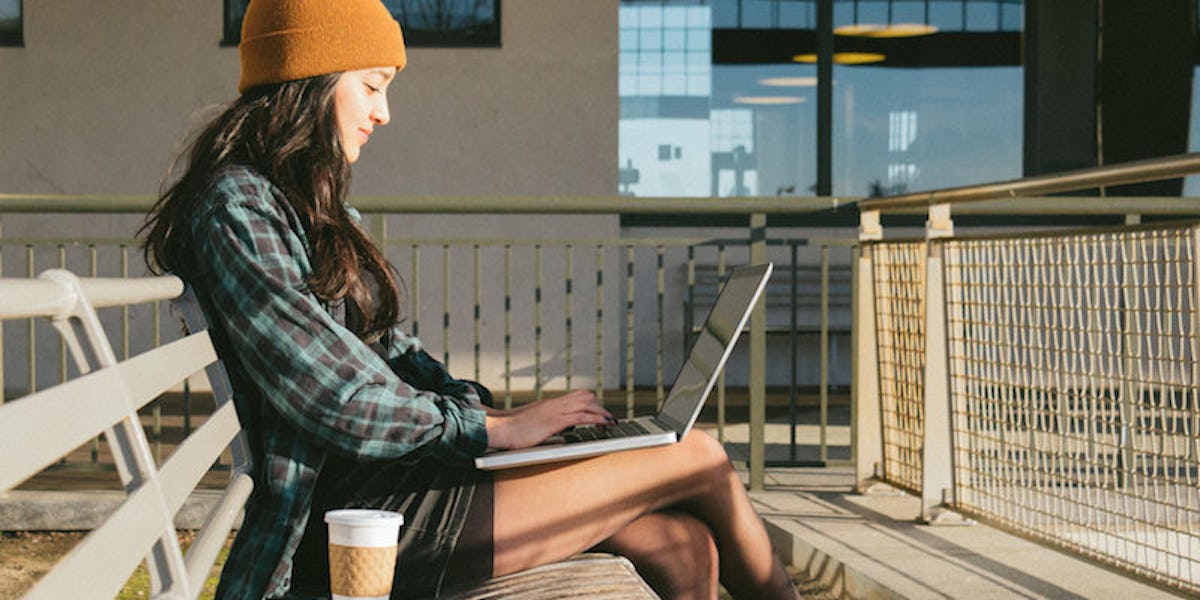 Digital Nomad: The Definitive 3-Step Guide To Working Remotely
Whether you work from home full-time or are a student who likes to get out of the library, I'm going to share some work location recommendations and tips on how to get the most out of your day(s) out of the office.
I work remotely full-time and have faced all the challenges that come with this setup.
While I work from my house most days, I do like to venture out a couple of days during the week, since it can get a bit lonely.
Where I choose to work depends on my work for the day, as each location brings its own set of challenges, such as bad WiFi, noisy and crowded environments and a lack of electrical outlets.
1. Choose the right location.
I usually work from one location throughout the entire day. But sometimes, I just need a place for a few hours.
The location I choose depends on a few factors, including the time I leave my house, the number of calls I'll be making and my proximity to good coffee and food.
I live in the Bay Area and am usually in San Francisco, so I may have a few locations to choose from.
Regardless of whether you prefer a busy environment like a coffee shop or a quiet spot like the library, here are some additional options to explore and consider:
a. Bakeries
It might be a San Francisco thing, but I've discovered a few bakeries that offer comfortable seating, a quiet environment and, of course, fresh bread (and sometimes other savory small bites).
While most of the nice bakeries I've come across don't offer WiFi, if you have a personal WiFi hotspot, I highly recommend looking into your nearby locations.
b. Starbucks
Though Starbucks is an obvious option, it really is a great spot for so many reasons.
It usually has many power outlets and wireless charging in various locations, which is nice if you ever forget your phone charger.
Download its app and sign up for its loyalty program, where you get a free drink after every 12 purchases, free refills on coffee and tea and notifications about any promotions, like "Buy a drink, and get a free dessert."
Lastly, you can pay with your phone. So if you ever forget your wallet, you can at least get something to eat there.
c. The Mall
The Westfield mall in San Francisco not only has free WiFi, but it also has free phone-charging stations, where you can lock and leave your phone.
Consider this option if you want to grab a quick bite and need a place for a couple of hours. The downside is, depending on the time of the day, the food court can be noisy and crowded.
But if you drop by on a weekday morning, that likely won't be the case.
d. Coworking Space Or A Breather Room
If you have an in-person meeting or an important call, need a more reliable Internet connection or just want a change of pace, consider a coworking space or a Breather.
This is a pricier option, but for some situations, it may be worth it.
Breather is a new service in which you can book a beautiful private space for any length of time.
I believe its rates start at $25 an hour, and it's currently only serving New York, Boston, San Francisco, Ottawa and Montreal.
2. The right "every day carry" items will make all the difference.
Constantly working from public places and different locations isn't always the most comfortable, so it pays to be prepared.
Because I don't have a regular place to work from, my "every day carry" items help create a sense of consistency, along with a more comfortable experience.
I usually walk and Uber to and from my workplace and the gym, so I'm very mindful about what I bring with me.
Through trial and error, I've determined the essentials that are actually worth lugging around.
Hopefully, the recommendations below will save you from some of the headaches I've experienced.
a. Portable Power Charger
If you're on the go and take a lot of calls, you won't want to end up with a dead cell phone battery in the middle of the day.
A portable power charger will help you avoid that situation.
I personally use the Solpro Helios. It's not only a portable charger for your small devices, but it's also solar.
This is a very functional charger you can use during your work days or camping trips.
b. WiFi Hotspot For Internet Downtimes
Though many places offer complimentary WiFi, the connection can be really slow or fail altogether.
My Karma Go is a pay-as-you-go WiFi hotspot.
The best part is, anyone who signs up to use your hotspot gets 100 MB of free data, and you get 100 MB of free data as well.
As a result, I haven't even dipped into the data I've purchased because I've only used the free data I've received from other people joining my hotspot.
This is a really affordable option if you want a backup Internet connection and don't need a ton of data.
If you're frequently working from loud places, consider investing in an excellent pair of earbud or over-ear headphones. (I use both.)
I bought mine from Massdrop, which sells products selected by a community of product enthusiasts.
Their audiophile community is especially engaged and can help you find the right headphones.
d. Water Bottle And Snacks
Buying bottled water and food every day adds up.
Invest in a quality water bottle and snacks that will help you get through the day.
Glass water bottles are a good option, as plastic can leach over time and steel isn't always the best, food-grade quality.
e. Cord Organizers
Having your cords neatly wrapped makes a difference. Try it out.
f. Toiletries And Makeup
Whether you hit the gym after work or unexpectedly end up at your significant other's house, you don't want to get stuck without your must-have toiletries and makeup products.
3. Other Tips
a. If you work remotely full-time, you know it can get lonely sometimes. So make some friends, work together and help each other out with your projects.
b. If you're at a noisy coffee shop, have a scheduled call for which you need an Internet connection and have a car, try to park near a location with WiFi and check to see if the WiFi reaches you.
c. If you frequently work from public places, consider looking into security software to maintain a private connection.
d. Take the time to plan your days in advance. At the end of each day, know what you have to do the next day, and think about the best place for you to work from.
e. Find places that inspire you. High ceilings and large, open spaces with a minimalist and rustic interior personally make a huge difference in my work vibe.
f. Find consistency within the inconsistency. Lay out your EDC items across the table in the same way.
Get to know the high-peak traffic times at the locations you like to go to, and avoid buying your food or cup of coffee during the busiest hours.
Understand your needs, and find locations that offer what you need.
While working remotely has its set of challenges, there are so many benefits and opportunities as well.
Take the time to find the setup that works best for you, and you will increase your productivity and learn to appreciate the flexibility a lot more.