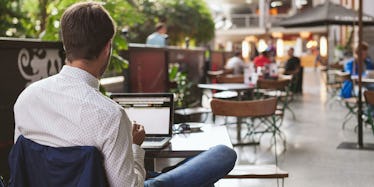 9 Reasons To Log Back Into LinkedIn And Get Your Networking On
LinkedIn is probably the single best website for professionals who want to promote their personal brands, network with others and practice some online karma by saying good things about their peers.
It's the "adult table" among social media channels.
However, as with anything else online, there are tried-and-true practices you should follow on LinkedIn.
That way, you can be certain you convey the proper tone, leave the right impression and ultimately land a great opportunity, in line with your career goals.
Here are nine ways to get the most from LinkedIn:
1. Connect with personality.
If you've used LinkedIn for any length of time, you've probably received numerous requests for a connection. Most of them were likely a connection request with no message at all.
That's typical LinkedIn usage.
Of course, part of your purpose on the social media website is to stand out. To do that, you can't be typical.
Instead of just sending people a generic connection request, add a message to it, explaining why you'd like to connect.
By adding a simple, "I really enjoyed our telephone conversation on Tuesday," or, "It was great meeting with you earlier today," you'll leave a much more positive impression.
2. Be consistent.
If you're making any kind of online effort to promote yourself, there is one word that should characterize your journey: consistency.
Simply put, you'll be ineffective on LinkedIn if you're an on-again, off-again user.
That's why you should be constantly logging on, engaging with others, recommending peers, sharing articles and keeping your résumé up-to-date.
Think of your LinkedIn presence as bread. It has a short shelf-life, and it goes stale quickly if it's not used.
3. Social media is a great place for social proof.
If you're unfamiliar with the phrase, "social proof," it's basically a reference to online testimonials by other people about how great you are.
Fortunately, LinkedIn allows people in your network to endorse you as an expert in your skills.
For example, if you're an accountant, you can ask people in your LinkedIn network who are familiar with your accounting skills to endorse you for it on your profile.
Then, others who view your profile will see your accounting skills are recognized by several others.
Users will want to know for sure you have the skills you claim to have.
One of the best ways to reassure them is with social proof. If you haven't already done so, reach out to people in your network and ask them to endorse you for your listed skills.
Also, recommend other people, and ask them to recommend you as well.
Recommendations on LinkedIn are like digital references.
Through them, you can show potential employers others who have worked with you think highly of you.
4. Understand the principle of brand name recognition.
Remember, LinkedIn is about building your personal brand. One of the best ways to do that is by creating brand name recognition.
What is the LinkedIn version of brand name recognition? As the name implies, it means people will recognize your name when they see you online. Be sure to keep your name in front of your fellow LinkedIn users.
Create blog posts, comment on the blogs of others and participate in active groups of people who share your interests. That way, you'll be developing personal brand name recognition.
5. Remember: What goes around comes around.
LinkedIn is a great place to practice the principle of sowing and reaping, often referred to as "karma." The site gives you a wealth of opportunity to go out of your way to help other people by recommending them, endorsing their skills and connecting them with the right people.
When you do that, you'll eventually see others doing the same for you. Although you're trying to promote yourself on LinkedIn, it's always a good idea to also promote others.
6. Use LinkedIn when you don't need it.
The sad reality is people often find themselves out of work due to company layoffs or budget cuts. They then try to network on LinkedIn so they can find a job quickly, but by that point, they face a tough effort.
It's best to use LinkedIn to build relationships and practice karma when you don't need a job yourself.
Then, if you find you're suddenly unemployed, you have a portfolio of connections that might lead to your next income.
On top of finding a job, LinkedIn can help you find business. Even business owners with years of experience can use the platform to form connections and network.
Having a stellar profile also helps potential clients who are searching for you to get to know you and your business better.
One thing you can do to aid in this is to share your accomplishments and successes in your profile, so potential clients can see what benefits you can bring them.
7. Use a call to action on your profile.
A call to action is when you ask somebody to do something.
On LinkedIn, it's a great way to give people a little nudge to click on a button or link that will take them to your webpage.
People often fill out their LinkedIn profiles and offer up a generic "my website," hoping viewers will click the link.
You should create a call to action with something more in depth like, "Click Here to See How I Can Save Your Business 10 Percent in Energy Costs."
That's far more marketable than a generic description.
8. Optimize your profile.
Did you know employers and potential clients actually use the "search" function on LinkedIn to find people who have a certain skill set?
They do that by searching for keywords such as "Java," "accountant," "project manager" and "electrical engineer."
If you want to be found by people who are searching for some of the skills you possess, practice a little LinkedIn search engine optimization.
Be certain your profile is rich in the keywords that reflect your competencies.
9. Avoid the predictable buzzwords.
Are you "efficient" and "effective?"
No, you're boring.
Remember you want to stand out.
You'll do that by describing yourself in a way that doesn't make you sound like you're writing a generic résumé.
Think about power words you can use in your profile to impact those who are viewing it.
Look for creative ways to highlight your career history, and what you offer potential employers.
LinkedIn is an ideal way to build a network of professionals online.
Just be certain you're maximizing your impact on the social media site.